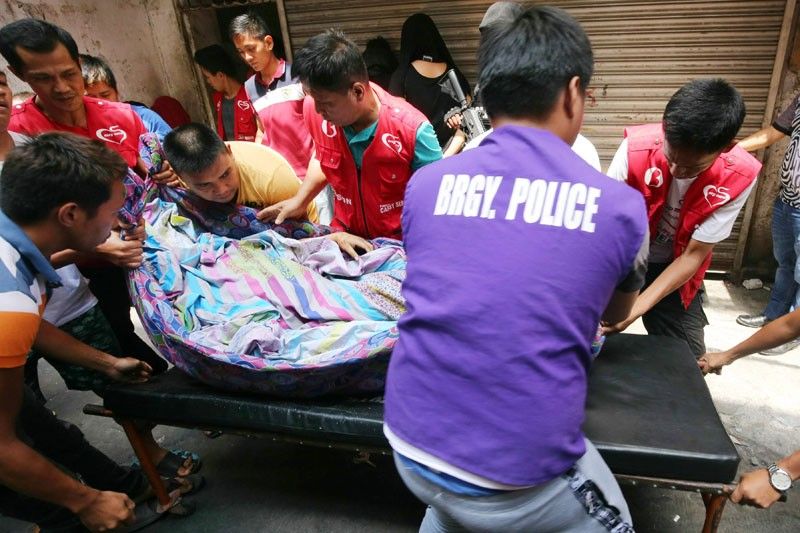 Barangay personnel prepare to place the body of Jabir Ampuan onto a gurney after he allegedly shot it out with police officers sent to arrest him in San Miguel, Manila yesterday.
KJ Rosales
Manila kagawad slain in drug raid
MANILA, Philippines — A barangay councilman was killed in an anti-drug operation in Sampaloc, Manila yesterday.
Barangay 561 kagawad Ronnie Labongray Jr. – whose name was reportedly included in President Duterte's drug matrix – allegedly tried to resist arrest by anti-narcotics operatives who served him a search warrant, issued by Manila Regional Trial Court Branch 20 Judge Marivic Balisi-Umali, at his home on Gerardo street at around 9:40 a.m.
Labongray allegedly drew a .45 caliber pistol and shot it out with lawmen from the Philippine Drug Enforcement Agency, National Capital Region Police Office and Manila Police District (MPD) Station 4.
Police officers recovered 150 grams of methamphetamine hydrochloride or shabu with a street value of P1 million and a loaded .45 caliber pistol.
Alfredo Joanino, Jeffrey Gallaron and Ronelyn Labongray – a relative of the suspect – were reportedly caught in a drug session during the same operation. Police seized P1.3 million worth of shabu from them.
A neighbor said the Labongrays are reportedly involved in drug deals in the area.
On Wednesday, a niece of the councilman, Mary Joy Labongray, was arrested along with seven others while they were reportedly having a drug session in a funeral parlor on Loreto street.
Linked to cops
Police said Labongray was a member of a crime gang operating in Manila and Quezon City. The gang is reportedly connected to Police Corporals Jolly Aliangan, currently detained at the Manila City Jail, and Joel Padre Juan of the MPD Station 4.
Juan died in a shooting in Sampaloc last year.
Labongray was arrested in 2017 on drug charges but was released the following year after his case was dismissed due to a technicality, police said.
'Shootout'
Meanwhile, Jabir Ampuan, 30, a suspected member of a drug and gunrunning syndicate operating in Metro Manila and nearby provinces, was killed in an alleged encounter in Quiapo before dawn yesteday.
Officers from the MPD's intelligence, special operations and special weapons and tactics units, armed with a search warrant, raided a five-story house on Maliwanag street in Barangay 648 at around 3:30 a.m.
Ampuan, who was armed with an Uzi and a fragmentation grenade, reportedly tried to resist arrest when police officers found him at the fourth floor.
Lawmen recovered P3 million worth of shabu, a .45 caliber pistol and a .38 caliber revolver from the house.
Eight others were arrested during the operation.