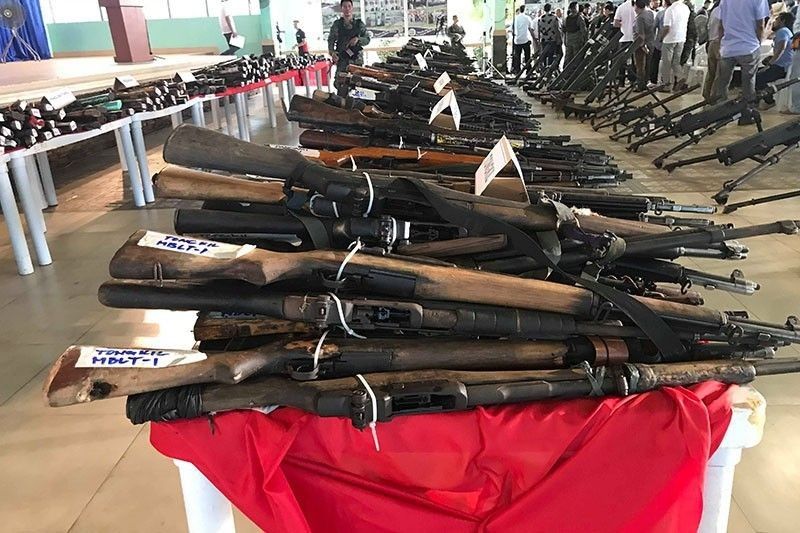 This file photo shows rifles and other weapons collected in the government's campaign against unregistered and illegal firearms
CPIO, WMC, file
Tawi-Tawi village leaders turn over high-powered guns to Marines
Roel Pareño
(The Philippine Star) - March 13, 2019 - 3:55pm
ZAMBOANGA CITY, Philippines — Village leaders in an island town in Tawi-Tawi turned over to the military 33 high-powered firearms, a grenade launcher and a crew-served machine gun to the Marines this week.
Col. Gerry Besana, spokesman of Western Mindanao Command, said the 17 barangay officials surrendered the weapons in response to efforts by the 2nd Marine Brigade to rid the province of loose firearms.
Besana said the village leaders turned over the cache of firearms at the municipal gym of Barangay Batu-Batu, Panglima Sugala last Monday. The turnover was facilitated by the Marine Battalion Landing Team 9, Mayor Rejie Sahali-Generale, and the Tawi-Tawi Police Provincial Office.
They turned over the following guns:
17 units of M1 Garand rifles
An M16A1 rifle
A cal.45 pistol
11 cal.38 revolvers
Two FN7 rifles
A cal.50 heavy machine gun
An M79 grenade launcher
Col. Camilo Balutan, Joint Task Force Tawi-Tawi commander, said troops have been working to prevent loose firearms from falling into the hands of criminals, including the Abu Sayyaf.
Lt. Gen. Arnel dela Vega, chief of the Western Mindanao Command, said the military will continue to take a diplomatic approach in ridding the province of illegal guns.
Dela Vega said the military continues to coordinate with the local government in disarming also the private armed groups in the area.
"We are elated to see that we made great strides in our bid to bring internal security and development amid martial law in Mindanao," Dela Vega said in a statement.
Martial law will remain over Mindanao until at least the end of 2019.