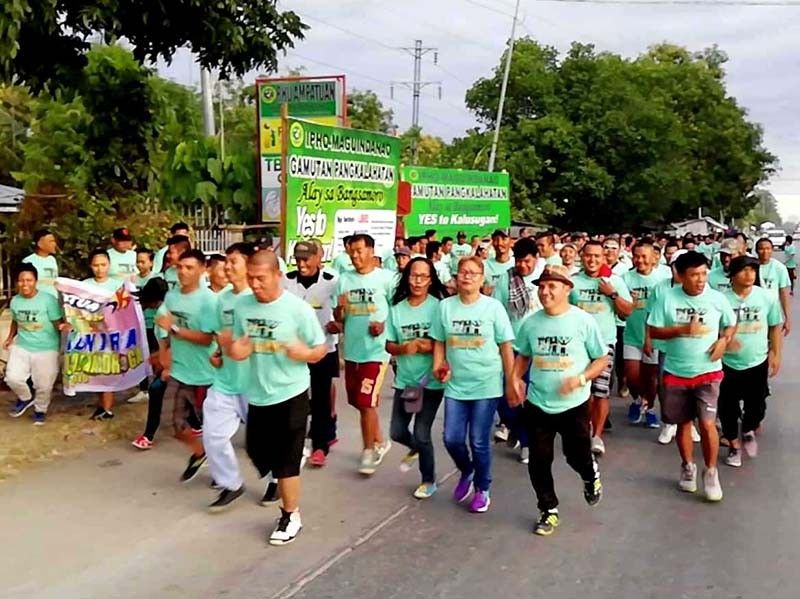 The fun run was meant to show community support for military anti-terror campaign.
Philstar.com/John Unson
Over 30 drug dependents surrender in Maguindanao
John Unson
(Philstar.com) - February 23, 2019 - 6:12pm
MAGUINDANAO, Philippines — More than 30 reforming former drug dependents are now one with authorities in addressing religious extremism in this province.
Major Gen. Cirilito Sobejana of the Army's 6th Infantry Division said Saturday the group joined the athletic fun run in Ampatuan town in Maguindanao last Thursday to manifest cooperation with the military's campaign against local terror groups and cohort narcotics syndicates.
The event was jointly organized by the 2nd Mechanized Infantry Battalion and local officials in Ampatuan town in the second district of Maguindanao.
Army units and members of the outlawed Bangsamoro Islamic Freedom Fighters, which operates in the fashion of the Islamic State, repeatedly figured in deadly showdowns in hinterlands in Ampatuan last year.
The fun run Thursday in the town proper of Ampatuan that barangay officials supported was meant to highlight the solidarity of local residents against terrorists and drug traffickers.
There are narcotics syndicates contributing money to the BIFF in exchange for sanctuary in areas where it operates.
"We appreciate the support to our security initiatives from former drug addicts now thriving in Ampatuan as law-abiding citizens," Sobejana said on Saturday.
Sobejana said senior officials of the Maguindanao police office and Lt. Col. Alvin Iyog, commanding officer of the 2nd Mechanized Battalion, are together in overseeing the government's anti-terror operations in Ampatuan and nearby towns.
More than 30 BIFF members surrendered in batches to the 6th ID since April last year, now being reintroduced to the local communities by the office of Maguindanao Gov. Esmael Mangudadatu.
Sobejana said they are expecting the surrender soon of more BIFF gunmen through the intercession of provincial officials and local commanders of the Moro Islamic Liberation Front.