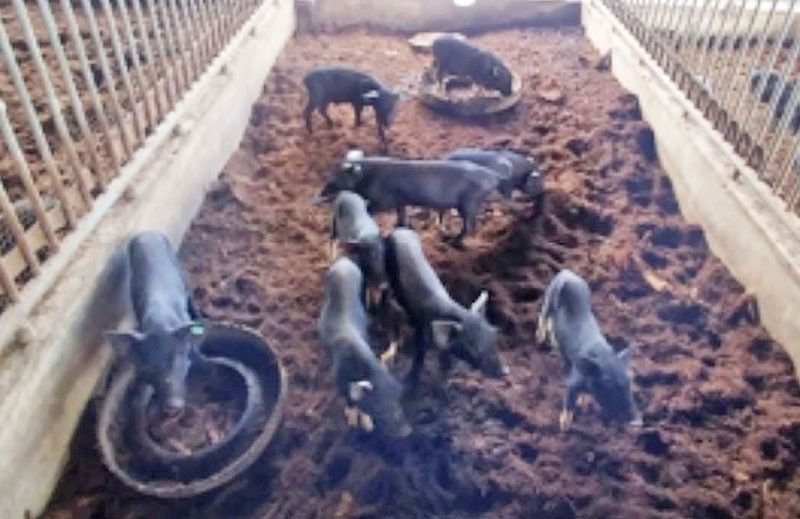 File photo shows native pigs being kept at the Ifugao State University in Ifugao province.
IFSU Facebook page
Baguio City cracks whip vs backyard piggeries
BAGUIO CITY, Philippines — It may be their year in Chinese astrology, but growing pigs is no longer allowed in this city.
Baguio City's Environment Parks Management Office again reminded backyard piggery operators of the ultimatum to flee before their year ends.
Engineer Moises Lozano from the CEPMO said they had tallied 261 backyard piggeries within the 17 barangays along the Balili River, including the Gibraltar, Pacdal and Lualhati areas.
Only 32 operators have voluntarily stopped tending pigs. Of the 46 backyard piggeries operators within the Gibraltar, Pacdal and Lualhati area, 14 have agreed to stop their operations.
Operators have axecuted an affidavit of understanding with the CEPMO that they will cease operations by the end of December, if not before.
Last November, operators were given a year to institute appropriate mitigating measures against the unabated dumping of animal waste into various river systems or to "dispose of their pigs".
Administrative Order No. 43, series of 2018 issued by Mayor Mauricio Domogan created an inter-agency task force on piggeries defining its functions relative to the proliferation of backyard piggeries in the different barangays. Residents had been complaining about the piggeries.
Earlier, the Environmental Management Bureau identified the operation of backyard piggeries as one of the major pollutants of the various tributaries of water systems in Baguio.
Backyard piggery operators were asked to institute septic tanks without plugs or apply pig waste treatments.
Backyard piggery owners face charges of violation of the Clean Air Act, Clean Water Act and the Magna Carta for Homeowners and Homeowners Associations, which prescribes the standards for the existence of piggeries within residential areas, aside from violation of P.D. 856 or the Sanitation Code of the Philippines.