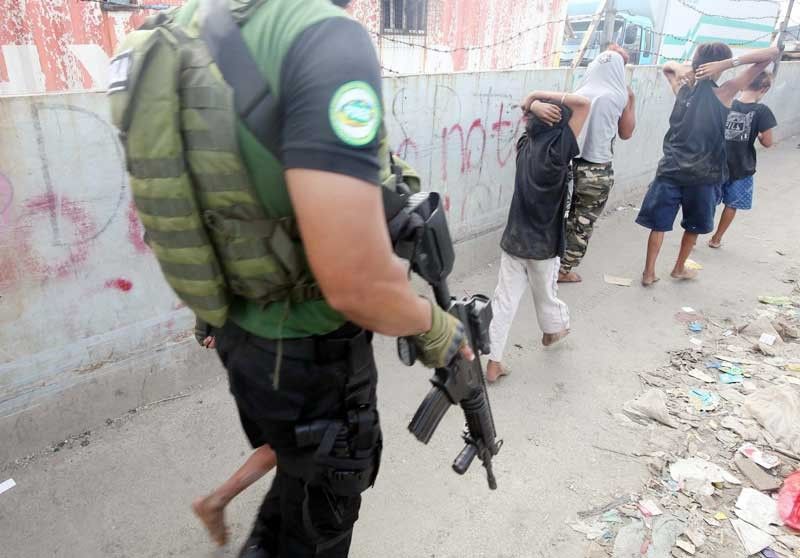 A PDEA agent rounds up children during a drug bust in Barangay North Bay Boulevard, Navotas City on Jan. 16.
Krizjohn Rosales
Navotas precinct chief, 2 intel cops sacked
Over PDEA roundup of 12 minors in raid
MANILA, Philippines — A precinct commander of the Navotas police and two intelligence operatives were relieved from their posts yesterday following a drug raid, which resulted in the roundup of 12 minors last week.
Philippine National Police (PNP) chief Director General Oscar Albayalde fired Inspector Resty Descalzo, head of the Police Community Precinct 3, along with Police Officer 3 Randy Belly and PO1 Jejomar Padasas, both of the station's intelligence unit.
Albayalde said Descalzo, Belly and Padasas were sacked because they failed to monitor the drug dens in Barangay North Bay Boulevard despite signs that children were being used in the drug trade.
The Philippine Drug Enforcement Agency (PDEA), which conducted the operation on Jan. 16, received flak for parading the arrested minors before the media.
The youngest suspect accosted during the operation is a four-year-old girl. Seven other minors, aged 12 to 15, are students.
According to Albayalde, he could not accept that Descalzo and the other policemen were not aware of the illegal activities happening in their jurisdiction.
"If that is happening in your area for so many years, hindi pwedeng hindi mo alam," the PNP chief said.
The minors were used as either runners, pushers or drug den maintainers. Some of them facilitated or took part in drug sessions, police said.
PDEA chief Aaron Aquino led the drug bust.
Critics said the PDEA violated the children's right to confidentiality.
They said the PDEA operation was "staged" to drum up support for the controversial bill in Congress, which seeks to lower the minimum age of criminal liability from 15 to nine years.
PDEA operatives, however, said they "rescued" the minors from 16 adults who were arrested during the raid.
The operation yielded 44 sachets of shabu worth P100,000 and drug paraphernalia.
Navotas police chief Senior Superintendent Ramchrisen Haveria said an administrative complaint for neglect of duty would be filed against the three policemen.
Social welfare officers will visit the minors' parents to determine if they are capable of taking care of their children once they are released from the custody of Bahay Pag-asa, a reformation facility run by the city government.
The parents may face charges of child abuse for allegedly allowing their children to be used by drug rings, according to Albayalde.
19 drug suspects fall
At least 19 persons believed to be involved in illegal drugs were apprehended in separate operations in Metro Manila in the past two days.
Twelve of the suspects, including a minor were arrested in Quezon City.
Seven persons were collared in Pasig and Marikina for drug possession. – With Marc Jayson Cayabyab