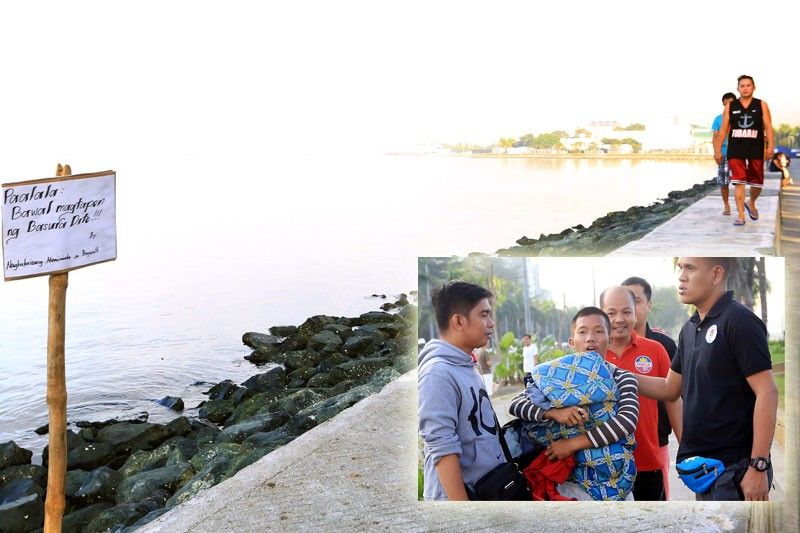 Visitors walk along the Baywalk following an operation by the city government of Manila yesterday to clear Manila Bay's coastline of informal settlers and street vendors. Inset shows an informal settler being 'rescued' by city government personnel, who will bring him to the local social welfare office.
Edd Gumban
DENR finalizing informal settler relocation plan
Manila Bay rehab
MANILA, Philippines — A plan to relocate informal settler families living beside Manila Bay will have to be finalized before the ISFs are moved out, Department of Environment and Natural Resources (DENR) Secretary Roy Cimatu said yesterday.
"There is a relocation plan that will identify who should go first or be transferred to possible relocation sites. We will forward this plan to the National Housing Authority (NHA) and the latter will take care of identifying these relocation sites," he said.
The DENR said around 200,000 informal settlers living near Manila Bay would have to be relocated to settlements identified by the NHA in coordination with concerned local government units (LGUs). as part of the government's efforts to rehabilitate the bay.
"The planning for the informal settlers' relocation will… overlap with the cleanup of esteros and waterways, and the task of reducing the level of fecal coliform and toxic discharges from establishments," Cimatu explained.
Meanwhile, Interior and Local Government Secretary Eduardo Año said one major issue that should be addressed is that relocated ISFs are displaced from work.
Manila Mayor Joseph Estrada yesterday aired his support for the DENR's effort to rehabilitate Manila Bay.
"Full cooperation and assistance of the city will be extended to the national government in clearing the Baywalk of vendors and obstructions," he said.