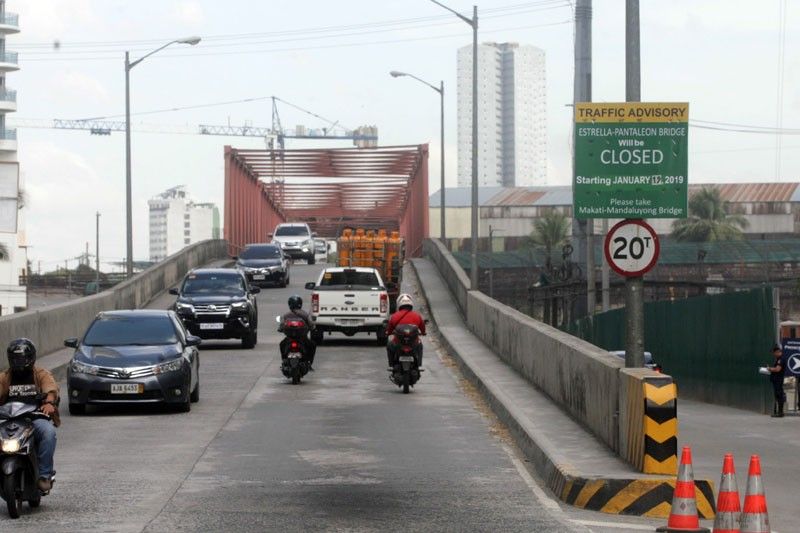 A signage is seen informing the closure of the Estrella-Pantaleon bridge on Friday, January 18, 2019. The Metropolitan Manila Development Authority (MMDA) urged motorists to practice driving through alternative routes before the Estrella-Pantaleon Bridge for replacement.
KJ Rosales
Rockwell Bridge off-limits starting Saturday
MANILA, Philippines — The Department of Public Works and Highways (DPWH) will close down the Estrella-Pantaleon Bridge, also known as the Rockwell Bridge, for more than two years starting at 4 a.m. today, officials said yesterday.
The DPWH will replace the two-lane bridge – which connects the cities of Makati and Mandaluyong – with a four-lane structure to accommodate the increasing number of motorists passing through it and as part of a grant from the Chinese government, said Bong Nebrija, EDSA traffic czar of the Metropolitan Manila Development Authority (MMDA).
To address the expected traffic gridlock on EDSA, Nebrija said the Mandaluyong City government will deploy two augmentation teams of eight traffic enforcers – four each in the morning and in the afternoon – along Conrado street, considered one of the critical areas where traffic is expected to build up.
Nebrija said motorists would not have traffic problems on weekends. He compared the weekday traffic flow to the "Christmas rush" last December as thousands are expected to converge on EDSA.
The MMDA will deploy at least 17 traffic enforcers on EDSA from Guadalupe to Buendia, he added.
Nebrija warned motorists that the travel time on EDSA might not exceed 16 kilometers per hour, especially during the rush hours, due to the bridge's closure.