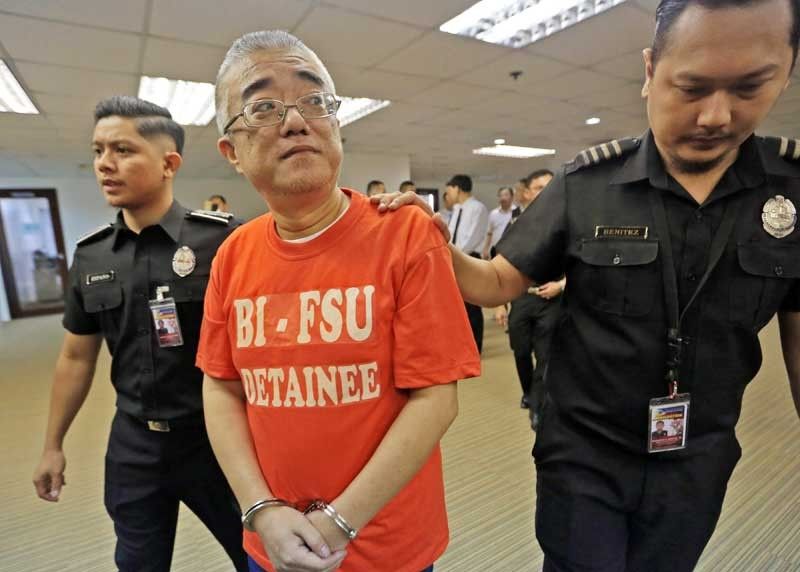 Chinese fugitive Xie Haojie is escorted by immigration agents following his arrest in Pasay City yesterday.
Edd Gumban
Chinese wanted for P11-billion embezzlement case arrested
MANILA, Philippines — A former government official in China wanted by Beijing for allegedly embezzling public funds amounting to P11 billion has been arrested by agents of the Bureau of Immigration (BI) in Pasay City.
Xie Haojie, 49, was turned over yesterday to Li Shulei, vice chairman of China's National Supervisory Commission, and La Yifan, director for International Cooperation of Beijing's Central Commission for Discipline Inspection.
Immigration Commissioner Jaime Morente said Xie, former general manager of a China-owned enterprise, is the first high-profile fugitive arrested by the BI this year.
Xie, who is facing economic crimes and corruption in China, was apprehended by BI agents assisted by personnel of the Presidential Anti-Corruption Commission (PACC) at his condominium unit along Sunrise Drive on Sunday.
Prior to this, Chinese officials sought the assistance of PACC chairman Dante Jimenez in arresting Xie.
Morente said Xie has been hiding in the Philippines since the fugitive fled China in March last year.
Xie is being held at the BI Fugitive Search Unit in Intramuros, Manila pending his deportation.
"He is an undocumented alien after Chinese authorities revoked his passport," Morente said.
The immigration chief said Xie would be deported as soon as the Chinese government arranges his airplane ticket back to China.
"He will be deported back to China to face trial. He will be included in the BI blacklist to prevent him from reentering the Philippines," Morente said.
Li commended the BI and PACC for Xie's apprehension.
Chinese Ambassador Xiao Jianhua said the fugitive's arrest "clearly demonstrates the determination of Beijing and the Philippines in fighting corruption."
Apart from Xie, the Chinese officials asked the Duterte administration to locate five other high-value Chinese fugitives, most of whom are facing economic crimes.