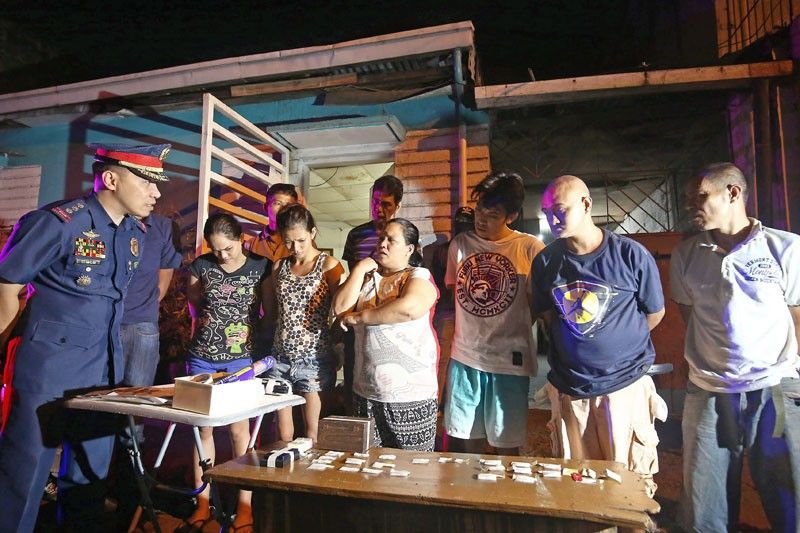 Police officers question some of the 12 persons arrested in a drug sting at a house on Mascardo street in Makati City Monday night.
Miguel de Guzman
7 arrested for P1.3-million shabu in Quezon City
MANILA, Philippines — Seven persons, including a minor, were caught with some P1.3 million worth of methamphetamine hydrochloride or shabu in three separate stings in Quezon City in the past two days.
Chief Superintendent Joselito Esquivel Jr., Quezon City Police District (QCPD) director, said around 135 grams of shabu with a street value of P918,000 were confiscated in Barangay Sangandaan at around 10:30 p.m.
Esquivel said drug surrenderee Amor Furagganan, 40, and Rizal Rodriguez, 33, were arrested after they sold shabu in exchange for P10,000 to a policeman posing as a drug buyer.
The five other suspects were caught yesterday. Among them are Mica Joy Dellosa, 19, Jay Ocampo and Jocelyn Dalagan, 40.
They were arrested in Barangay Sauyo at around 5 a.m. The operation resulted in the seizure of some 60 grams of shabu worth P408,000.
Records show Dalagan has a pending illegal drug case in Malolos City, Bulacan.
In the same barangay at around 2:15 a.m., Muhaimin Ibrahim, 20, and a 17-year-old girl were caught with five grams of shabu with an estimated street value of P38,000.
Aside from the seven, 27 more suspected pushers and users were apprehended in other police operations in the city.
The minor was turned over to city social welfare and development officers.
From call center to drug shop
In Makati, Francis Pestanas was arrested in sting at a former call center office turned into a drug shop on Mascardo street in Barangay Bangkal Monday night.
Lexter Raguro, Binoy Martin, Gina Paderes, Carter Rapsing, Michael Malano, Ariel Doralta, Lorein Pabanil, Allan Paderes, Romie Palon, Eduardo Faguro and Elaiza Estacio were also arrested during the operation.
Recovered from the suspects were 23 sachets of shabu with an estimated market value of P200,000, a sachet of cocaine and drug paraphernalia.
Surrenderee slain
In Manila, drug surrenderee Elvira Valero, 57, was gunned down by motorcycle-riding men in Tondo at around 7:16 a.m.
Valero was talking with her neighbor MacMac Pacsoderon in front of her house when she was attacked.
Police have yet to determine the motive for the killing.