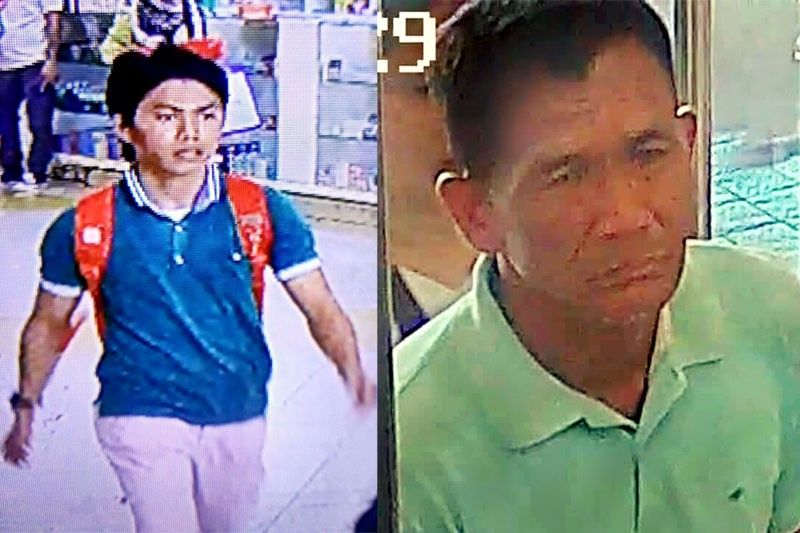 Surveillance camera images provided by police show the two men who left a small package inside the Southseas Mall in Cotabato City, where two people were killed in a blast on Dec. 31, 2018.
File
Charges filed vs 2 suspects in Cotabato City mall blast
(Philstar.com) - January 10, 2019 - 12:40pm
MANILA, Philippines — A special unit formed to investigate the December 31 bombing in a mall in Cotabato City has filed charges of murder and frustrated murder against two suspects, one of whom is known only by an alias and remains at large.
Police Regional Oiffice 12 in General Santos City said Thursday that Special Investigation Task Group Southseas has filed charges against Salipudin Lauban Pasandalan and "Alias Saed Nur Kasim" at the Cotabato City Prosecutor's Office on Wednesday afternoon. The two face two counts of Murder and 34 counts of Frustrated Murder.
In their complaint, authorities said the two planted the IED outside the entrance of the Southseas Mall that killed two people and injured 34 others. A second IED was found inside the mall and promptly disarmed.
RELATED: Cotabato City schools asked to fly flags at half-mast for mall blast victims
According to a January 8 BusinessWorld report, Pasandalan surrendered to police on January 6 after seeing his face in TV reports as one of the suspects in the bombing. Pasandalan, 56, was accompanied by relatives and was assisted by two lawyers.
SITG Southseas is composed of personnel from the Army's 6th Infantry Division, from the Cotabato City police office and from PRO-12.