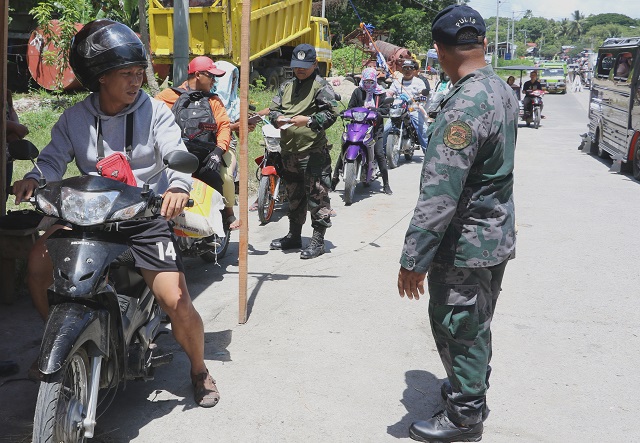 Personnel of the Cotabato City police office screen motorists at a checkpoint into the city from Datu Odin Sinsuat town in Maguindanao. JOHN UNSON, file
Man transporting IED hurt in shootout outside Cotabato City
John Unson
(Philstar.com) - January 10, 2019 - 11:45am
COTABATO CITY, Philippines — A man suspected of trying to bring an improvised explosive device into the city was injured in a shootout with authorities early Thursday, the military said.
In an initial report, the public affairs office of the 6th Infantry Division identified the suspect as Talib Datukali Dingo, based on a Philippine Health Insurance Corporation identification card found in his wallet.
He was intercepted by combined personnel of the 5th Special Forces Battalion and the local police near a bridge at a diversion road in Capiton area that connects Cotabato City to Datu Odin Sinsuat, Maguindanao.
Maj. Arvin Encinas, 6th ID's public affairs officer, said security personnel asked Dingo, who was on a motorcycle, to pull over for inspection but was forced to shoot him instead when he pulled out a pistol from his waist.
An IED was found in a utility box underneath the seat of his black Honda motorcycle, which did not have a license plate.
Ordnance disposal experts deactivated the IED using a calibrated low-level explosive.
Encinas said Dingo could have brought the IED somewhere in any of the 37 barangays in Cotabato City if authorities had not been tipped off by informants.
Intelligence agents of 6th ID are now helping the police determine if Dingo, who was rushed to a hospital for treatment, belongs to the outlawed Bangsamoro Islamic Freedom Fighters.
The group, which operates in the fashion of the Islamic State, has been trying to sabotage the now 22-year peace process between Malacañang and the Moro Islamic Liberation Front.