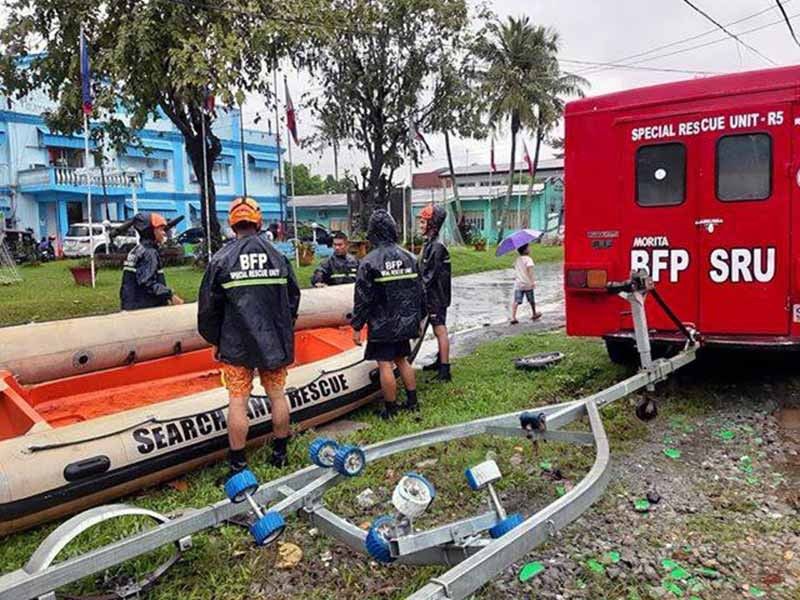 In this photo from the Office of Civil Defense-Bicol, members of the Bureau of Fire Protection Special Rescue Unit prepare to deploy for rescue operations in Libon, Albay, where close to 100 families were trapped by heavy rains.
OCD-Bicol Facebook page
18 dead in Bicol due to 'Usman'
(Philstar.com) - December 30, 2018 - 9:01am
NAGA CITY, Philippines (Bicol Standard) – Eighteen people are dead in Bicol due to landslides and rough weather brought about by the incessant rains of Tropical Depression Usman, the Police Regional Office 5 said Saturday night, citing a report by the Office of Civil Defense Bicol.
In Albay, a landslide in Barangay San Francisco, Legazpi City claimed the lives of Mia Loreto, Mauro Alegre, and Marco Alegre. In Barangay Sugod in Tiwi town, authorities recovered the remains of two men who have yet to be identified.
In Sorsogon City and Bulan in Sorsogon province, the casualties were identified as Angelina Gerona, Jaime Morrico, Gerald Despabiladeras, and Gilbert Desunia.
In Camarines Sur, Charles Las Penas and Charles Luzande of the town of Lagonoy were both casualties of a landslide.
In Masbate, the casualties were Susana Celesti, Minang Celesti Macahilig, Rosana Celesti Macahilig, Juan Francisco, Jun Nerza, Teresita Fapillajera, and Marilyn Catarinin of the towns of Claveria, Mobo, and Uson.
Tropical Depression Usman, which has weakened into a Low Pressure Area, continues to bring heavy moderate to heavy rains with lightning and strong winds in the region this morning.
Bicol Standard is a regional partner of Philstar.com