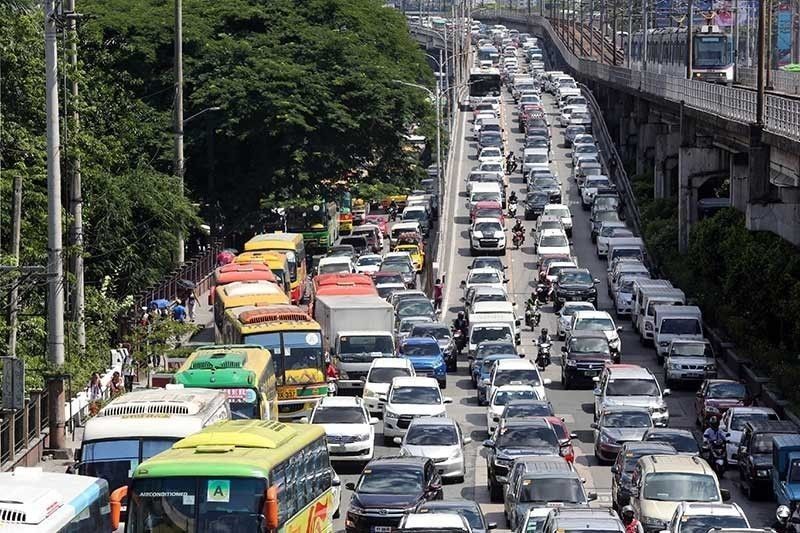 Metro Manila Development Authority is proposing narrowing lanes to allow the addition of another lane
Boy Santos/File
MMDA proposes narrower lanes so more cars can use EDSA
(Philstar.com) - December 27, 2018 - 2:21pm
MANILA, Philippines — The Metro Manila Development Authority is proposing to narrow the five lanes on EDSA to make space for an additional lane so more cars can use the thoroughfare.
"We call it a 'road diet,'" MMDA spokesperson Celine Pialago told reporters in a press conference Thursday morning. "There won't be any road construction. They will just repaint the lanes," Pialago said in Filipino.
According to a report on One News, the lanes on EDSA are 3.4 meters wide and the MMDA is proposing narrower 2.8-meter lanes. There will be less space between cars, but lanes will still be wide enough to fit vehicles within the lane, MMDA said.
MMDA said that this will double EDSA's capacity of 6,000 cars to 12,000 at any given time.
They cited a report by the Washington D.C.-based World Resources Institute (WRI), which found that the size of lanes should be just enough to fit vehicles and not too wide.
'Wider not always safer'
"There's a notion that the wider the road, the safer," Pialago said. "Because the drivers have more space to maneuver and less of a chance to get in an accident. Unfortunately, it's not like that."
The Department of Public Works and Highways will make the final decision if the roads would be repainted to add an additional lane or if center islands should be removed.
The WRI study that the MMDA cited said that wider may not always be better because "this means cars may go faster, and, when cars go faster, the likelihood of crashes and injuries increases."

"For example, if a car is traveling at 30 km/h (18.6 mph), pedestrians have a 90 percent chance of survival, but, if the car is traveling at 50 km/h (31 mph), there is only a 15 percent chance the struck pedestrian will survive (See Figure 2)," the study said.

About 12,515 accidents total were recorded in various parts of EDSA in 2017, or an average of 34.28 accidents per day, according to a study by Ateneo de Manila University.

INTERAKSYON: There are more Metro Manila road mishaps daily than you'd think
Metro Manila averaged a total of 299 road vehicular incidents daily that same year.

The MMDA attempted to implement a carpool policy on EDSA in August in an effort to reduce the volume of vehicles on the highway, but later suspended the scheme. — Ryan Macasero