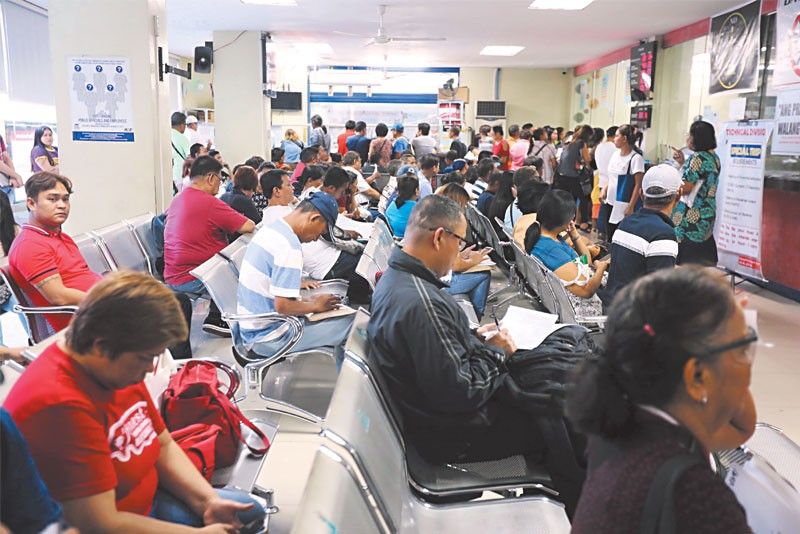 Drivers and operators file their request for an updated fare matrix for jeepneys and buses at the Land Transportation Franchising and Regulatory Board office in Quezon City yesterday.
Boy Santos
LTFRB execs divided over jeepney fare hike
MANILA, Philippines — Two officials of the Land Transportation Franchising and Regulatory Board (LTFRB) are at loggerheads again, this time over the implementation of the P10 minimum fare for public utility jeepneys.
Board member Aileen Lizada yesterday said the fare hike for jeepneys should be put on hold to comply with Transport Secretary Arthur Tugade's order for its review.
Lizada added that the issuance of updated fare matrices should be suspended, effectively preventing drivers from charging fares.
She said in an interview that despite Tugade's order, no meeting has been scheduled for the review and consultation with various stakeholders.
Chairman Martin Delgra earlier said that the fare hike would push through while it is undergoing review.
Commuters would have to pay P10 minimum fare as LTFRB upheld its Oct. 18 decision and junked a commuter group's plea to stop the fare increase.
The decision made permanent the P1 provisional increase in July and granted an additional P1 for the first four kilometers, effectively increasing the minimum fare for jeepneys to P10.
Lizada dissented from both decisions and alleged that there was "haste" on the part of the majority of the board, composed of Delgra and board member Ronaldo Corpus, to come to a decision.
The oppositors for the fare hike have asked Malacañang to intervene.
United Filipino Consumers and Commuters president Rodolfo Javellana, the oppositor on the fare hike, wrote to President Duterte to complain about the supposed "reckless" decision of the LTFRB.
The board cancelled the hearing that was scheduled on the day that the board junked the oppositor's motion.