MILF political party to focus on plebiscite, stay out of May 2019 polls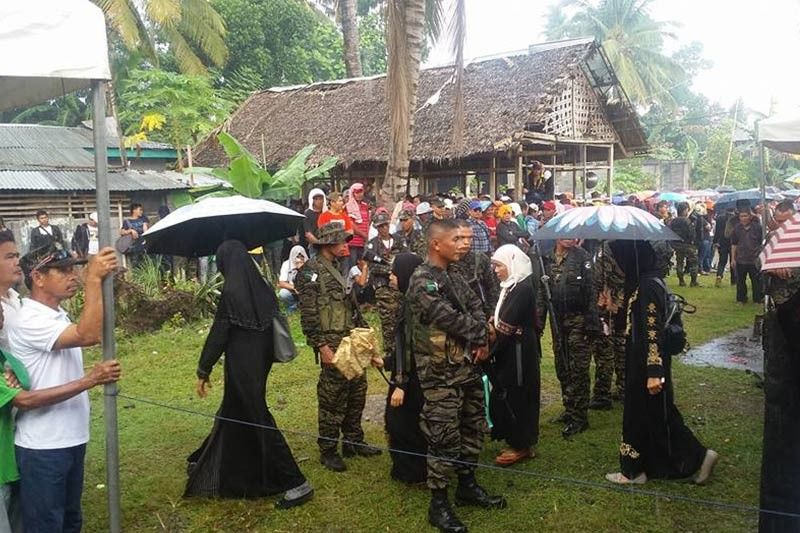 MAGUINDANAO, Philippines — The Moro Islamic Liberation Front will not be participating in the May 2019 elections, its chairman Al Haj Murad Ebrahim said over the weekend.
The MILF formed a political party in 2014 in anticipation of future elections in the proposed Bangsamoro region and registered it with the Commission on Elections in 2015. The 16th Congress, however, failed to pass the Bangsamoro Basic Law.
A new Bangsamoro Organic Law was enacted in July after President Rodrigo Duterte repeatedly reiterated support for the proposal.
"This is the start of the MILF's evolution from an armed revolutionary group into a political organization that would continue struggling for peace and development in the homeland in another arena – governance and politics," the party's secretary-general said in 2014.
"The United Bangsamoro Justice Party will not participate in the May 2019 local elections," Murad told Gen. Carlito Galvez Jr. and other senior military officials who visited the MILF's Camp Darapanan in Sultan Kudarat, Maguindanao.
MILF to focus on plebiscite
Galvez was accompanied to Camp Darapanan by Brig. Gen. Cirilito Sobejana of the Army's 6th Infantry Division, Lt. Gen. Arnel Dela Vega of the Western Mindanao Command and Chief Superintendent Graciano Mijares, director of the Police Regional Office-Autonomous Region in Muslim Mindanao.
Murad said the main focus of the MILF for now is to campaign for the ratification of the Bangsamoro Organic Law through the plebiscite on the proposed region on January 21, 2019.
"The UBJP will stand neutral during the May 2019 local elections," he said.
The Commission on Elections will hold the plebiscite in the Autonomous Region in Muslim Mindanao's five provinces and in parts of Lanao del Norte in Region 10 and in North Cotabato in Region 12.
"That is our main concern for now. We are initiating dialogues intended to enlighten people on the benefits of the BOL," Murad said.
The BOL is the enabling measure for the replacement of the ARMM with a Bangsamoro Autonomous Region in Muslim Mindanao, or BARMM. The transition government for the new region will be composed of MILF officials whom President Rodrigo Duterte will appoint.
Galvez. whil at Camp Darapanan, said he will help campaign for the BOL after he retires from the Philippine Army in December.
"After I hang up my uniform, I can freely campaign for a 'yes' vote for the BOL," he said.
Galvez first got involved in the peace process as chairman of the government's Coordinating Committee on the Cessation of Hostilities while still a colonel.
The committee, which has a counterpart in the MILF, enforces a 1997 bilateral ceasefire meant to prevent hostilities between state and rebel forces while efforts to put a negotiated closure to the Mindanao Moro issue are underway.
Galvez and MILF leaders were also instrumental in the amicable settlement of violent, decades-old clan wars in central Mindanao while he was commander of 6th ID.