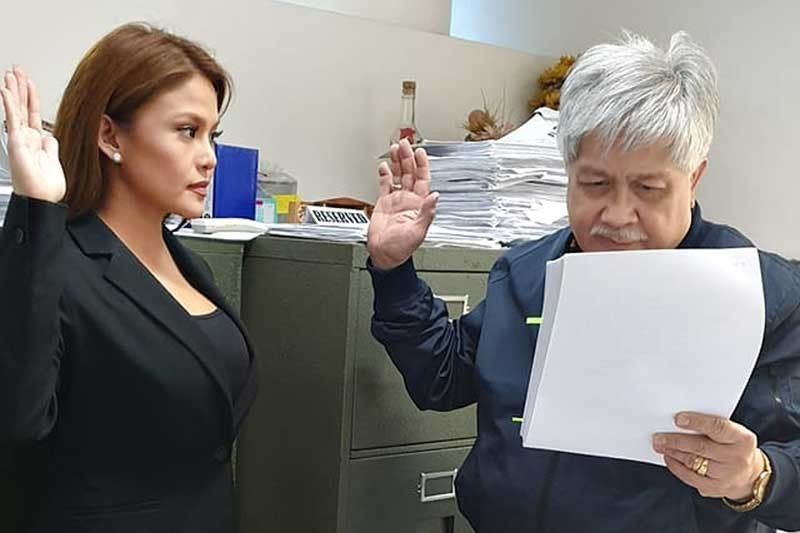 ABS-CBN reporter Gretchen Fullido files charges of sexual harassment and libel before the Quezon City prosecutor's office in a photo posted by lawyer Marvin Aceron on Facebook yesterday.
Gretchen Fullido sues TV execs for sexual harassment, libel
MANILA, Philippines — A reporter for ABS-CBN has filed a sexual harassment complaint against two officials of the television network before the Quezon City prosecutor's office.
Lawyer Marvin Aceron posted on Facebook yesterday that reporter Gretchen Fullido filed the charges against former executive Cheryl Favila and ABS-CBN News segment producer Maricar Asprec for sexual harassment, which she allegedly went through for almost three years.
Fullido accused the two women of sending her text messages "filled with sexual innuendos and even requested for sexual favors."
The two allegedly "made it difficult" for Fullido to work as a reporter and anchor for the network's nightly news program when she rejected their advances.
She also filed charges of libel against ABS-CBN executives Cecilia Drilon and Venancio Borromeo as well as news reporter Marie Lozano, whom she accused of besmirching her reputation by claiming that she was using the sexual harassment complaint she initially filed with ABS-CBN to leverage her employment status.
Fullido also alleged that Drilon resorted to victim shaming. In her affidavit, Fullido stated that Drilon made her feel like she deserved to be harassed because she "was willing to wear a bikini with an inflatable pool with bubbles to shove up the ratings of TV Patrol," according to Aceron.
In July, ABS-CBN found Favila liable for gross misconduct, which led to her dismissal from the company, but the sexual harassment case against her was dismissed, Aceron said.
ABS-CBN said in a statement that it respects Fullido's right to bring the sexual harassment complaint to the courts. The network said it does not condone any such acts in the workplace by its employees.
"Now that she has filed charges with the Quezon City prosecutor's office, we expect all parties to allow the legal process to take its course," it added.
The TV network, without identifying names, noted that Fullido filed an administrative case against a supervising producer and a segment producer for alleged sexual harassment in November last year.
ABS-CBN said it took prompt action on the complaint and decided based on the evidence presented.