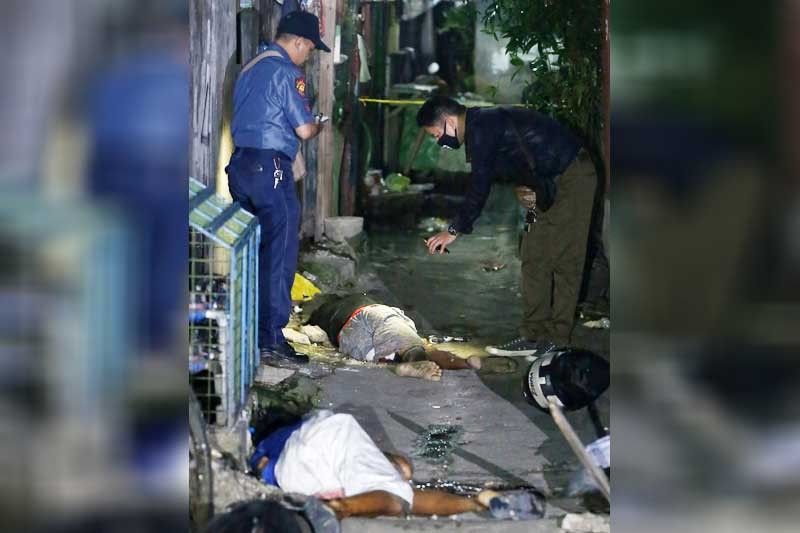 Crime scene investigators examine the bodies of two alleged drug pushers who were killed by police officers along Pacheco street in Tondo, Manila before dawn yesterday.
Miguel De Guzman
Drug war: 2 dead, 40 arrested
MANILA, Philippines — Two alleged drug pushers were killed in an alleged shootout and at least 40 others were arrested in Metro Manila over the past two days as the government continued its war against the illegal drug trade.
The two suspects – a man known only as Boboy and his unidentified companion – died at the scene in Tondo, Manila yesterday.
Senior Superintendent Eleazar Matta, who heads the Criminal Investigation and Detection Group-National Capital Region (CIDG-NCR) office, said two .38 caliber revolvers, a .45 caliber pistol, several sachets of methamphetamine hydrochloride or shabu and a motorcycle without a license plate were recovered from the two men.
Personnel from the CIDG's Manila field office and the Manila Police District (MPD) Station 1 arranged to purchase shabu from Boboy, who arrived with his companion on a motorcycle at P. Garcia street in Barangay 110 at around 2 a.m. yesterday.
After sensing they were dealing with police, Boboy reportedly drew a gun and started shooting, Matta said.
The suspects tried to escape but police cornered them at the intersection of Pacheco and Dela Fuente streets in Barangay 67, where they allegedly traded shots with the lawmen.
MPD crime scene investigators recovered bullet casings, caliber unknown, from the scene of the shootout.
Fireman caught
Among the 40 who were arrested, most of them in Quezon City, was Senior Fire Officer 1 Paulo Emmanuel Perea, who was caught allegedly using shabu at an apartelle in the city before dawn yesterday.
The complainants, who were not named, told police they saw a note, stuffed through a hole in the wall of their room at the New York Apartelle, asking if they would like company.
When they checked the opposite room, they reportedly saw Perea using shabu with a male companion.
The complainants reported the incident to police, leading to Perea's arrest. His companion escaped.
Drug paraphernalia and sachets with traces of shabu were seized from Perea, who is assigned to the Bureau of Fire Protection-National Capital Region director's office.
Also in Quezon City, bus driver Roselito Domingo, 36, was arrested yesterday after three sachets of shabu and drug paraphernalia were allegedly found on his person at a provincial bus terminal along Mirasol street.
The drugs were reportedly found when Domingo was subjected to mandatory inspection after he resigned from the bus firm.
P1-M shabu seized from trader
In Las Piñas, police seized 152 grams of shabu with a street value of P1 million from businessman John Lomotan, 39, and his companion Ranny Singcoy, 32, during a sting at the corner of Rodriguez street and Alabang-Zapote Road at around 5:30 a.m. yesterday.
Director Guillermo Eleazar, National Capital Region Police Office chief, said Lomotan, an architecture graduate, is reportedly behind the proliferation of shabu in Las Piñas City and nearby areas.
Police also seized the suspects' cell phones and Honda Civic (ZGK-198) as well as four improvised water pipes, a weighing scale and five bundles of plastic sachets from the car's compartment.