More than 300 families evacuated after Cebu landslide
September 20, 2018 | 1:06pm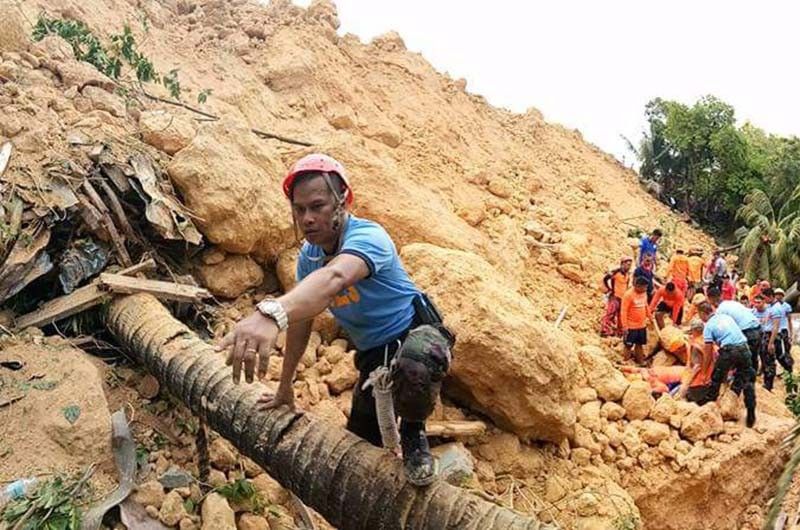 64 reported missing
MANILA, Philippines — (Updated 2:22 p.m.) An incident command post has been put up and search and rescue teams from different agencies have been deployed after a landslide in the City of Naga in Cebu early Thursday morning, the National Disaster Risk Reduction and Management Council said.
According to an initial report by the NDRRMC, teams from the Bureau of Fire Protection, Philippine National Police, Provincial Disaster Risk Reduction and Management Office, Emergency Rescue Unit Foundation and the local government units of Argao, Cebu City, Mignlanilla and Mandaue are already at the landslide site in Barangay Tinaan.
It said the landslide happened around 6 a.m. "due to continuous rains."
LOOK: Retrieval operations ongoing after a massive landslide hits Tinaan, City of Naga, Cebu | via Aldo Banaynal and Rowena Capistrano via @TheFreemanNews pic.twitter.com/CqUQKgAOvU

— Philstar.com (@PhilstarNews) September 20, 2018
The Freeman reports 64 people have been reported missing as of 1:40 p.m. It also said there were six confirmed fatalities.
Province deploys rescuers, volunteers
Cebu Gov. Hilario Davide III has ordered all of the province's disaster risk reduction and management office rescuers and volunteers deployed to the City of Naga, where a massive landslide has buried at least 26 houses.
According to the Cebu provincial government, heavy equipment has also been ordered deployed to the area affected by the landslide. Food will also be provided to evacuees and survivors by the province's Social Welfare and Development Office.
The City of Naga has already evacuated 315 families and a state of calamity has been declared over five barangays—Tinaan, Mainit, Naalad, Pangdan, and Cabungahan.
Naga City Mayor Kristine Chiong said in an update by The Freeman that the area hit by the landslide is "near" a quarry site that the city had issed a cease-and-desist order against in August.
LOOK: Aerial shots of massive landslide that killed 4, injured 6 and buried over 20 houses in City of Naga, Cebu | via John Lindsey Banaynal pic.twitter.com/Tn8jPR0dnl

— The Freeman (@TheFreemanNews) September 20, 2018
Rescue and retrieval teams earlier Thursday confirmed the deaths of Olivia Menesis (63), Abel Lobiano (40), Romeo Jabonilla (50), and a 4-year-old child.
Those injured and brought to Talisay District Hospital were identified as Rose Ann Lobiano (40), Christopher Cemelier (44), and Nestor Capoy (52). The number of injured has since risen to six.
LATEST: Naga City Mayor Kristine Chiong says landslide-hit area is "near" quarry site. City issued cease & desist order vs APO CEMEX in Aug. pic.twitter.com/pNtCsR3kcC

— The Freeman (@TheFreemanNews) September 20, 2018
Developing story
Related video:
As It Happens
LATEST UPDATE: September 20, 2018 - 9:29am
A landslide in Barangay Busay in Cebu City early Wednseday buried 12 vehicles, and left parts of the area inacessible.
According to reports, the city government has already dispatched heavy equipment to clear the area where eight jeepneys and several private vehicles were damaged by the landslide.
Parts of the central and southern Philippines have been experiencing heavy rains because of the tailend of a cold front affecting the area. The rains have caused flooding in Cebu and Bohol as well as in Cagayan de Oro and in Lanao del Sur
September 20, 2018 - 9:29am
Search and rescue operations are ongoing in Barangay Tinaan in Naga City, Cebu after a landslide there, The Freeman reports.
According to reports, the landslide was triggered by rain in the area.
LOOK: Rescuers look for residents believed to be trapped inside their houses after a massive landslide hit Naga, Cebu | via Aldo Banaynal pic.twitter.com/N9vpA4mqBo

— The Freeman (@TheFreemanNews) September 20, 2018