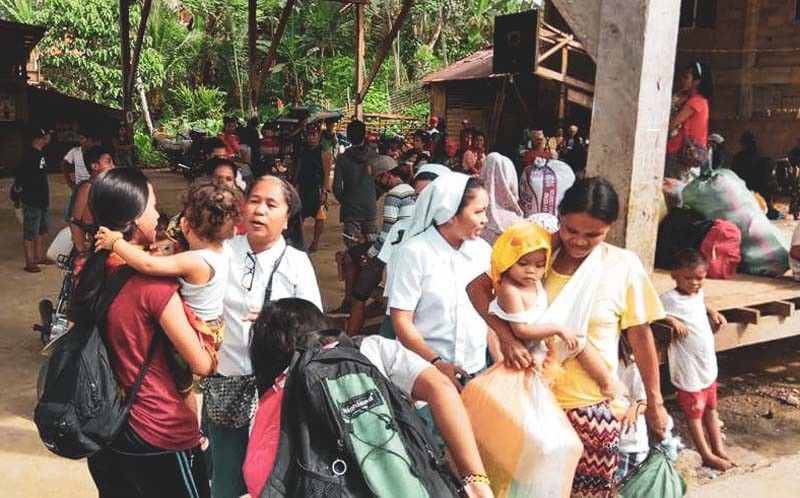 Residents of Lumad communities in Surigao del Sur left their homes in July because of military presence in their areas.
Photo from ALCADEV Facebook page
Lumad evacuees go back home
(Philstar.com) - August 9, 2018 - 11:05am
MANILA, Philippines — More than 1,600 residents of Lumad communities in Surigao del Sur have returned to their homes after soldiers encamped in their area, and whom they had fled to avoid, left their areas.
In a statement on Wednesday, Manobo group Malahutayong Pakigbisog alang sa Sumusunod (MAPASU, or Persevering Struggle for the Next Generation) said it has confirmed that personnel of the Army's 75th Infantry Battalion, whom evacuees said had harassed them and disrupted their lives when thay came in June, were no longer in the area.
"We did not immediately believe the military's statement during the July 30 dialogue because they had lied to us so many times in the past. We surveyed our communities so we can safely return home," MAPASU said in a statement shared by Higala, an alliance of Lumad rights advocates and organizations.
MAPASU said the local government of Barangay Diatagon, the village in Lianga town where the Lumad evacuees initially fled, has revoked its resolution. That resolution, and a similar one from the Lianga municipal council, had allowed the military to put up detachments in Lumad communities.
"Our children, the women, elderly and all the evacuees are eagerly looking forward to returning to the communities, without threat to our lives and where we are able to move freely. We will go back to what is for us, paradise, where we once lived and were forced to abandon to protect our lives and livelihoods," the group, which the military has accused of being supporters of the New People's Army, said.
RELATED: Lumad evacuees face harassment, lack of water and food
The group said that the evacuees had to pass through checkpoints and barricades on the way to Diatagon and were subjected to further harassment and a supposed blockade on food aid by soldiers and police around the village gymnasium.
Volunteers and supporters reported similar issues at the Diatagon gym, which prompted the evacuees to leave the town in late July and walk to Tandag City, the provincial capital.
Melita Encenzo of the Municipal Social Welfare and Development Office in Lianga in July denied that relief was being kept from the evacuees.
In a video posted on Facebook and shared by an account associated with the Army's 401st Infantry Brigade, she said in Bisaya that relief goods for the evacuees should be turned over to local authorities for distribution. She also said members of the media were not barred from going to the evacuation center despite a report by MindaNews that its team had not been allowed through military roadblocks.
The Civil Military Operations unit of the 401st Infantry Brigade said in July that the military had been deployed to the Andap Valley Complex because it was known as an NPA-influenced area and that the soldiers were there to protect the community. It also said the evacuation was done as a form of protest and not because of actual threats to residents' lives.
MAPASU and other organizations that work with indigenous communities believe, however, that the military was being used to open up ancestral domain to investors.
"We will not tire of enduring evacuations even it means offering our lives, if our ancestral lands which is our life, will be taken away from us. For us, our ancestral lands are but borrowed by our tribe from Magbabaya. If this is taken away from us, it will be like killing our tribe," MAPASU said.