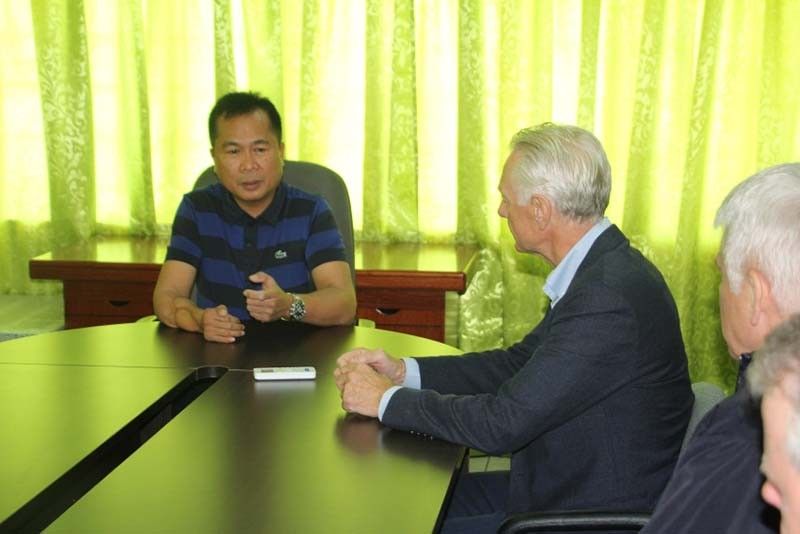 United Nations' security official Peter Drennan and Brig. Gen. Cirilito Sobejana of the 6th Infantry Division discussed local peace and order concerns during their meeting in Maguindanao province.
Philstar.com/John Unson
ARMM military discuss peace issues with UN security experts
John Unson
(philstar.com) - July 23, 2018 - 4:12pm
MAGUINDANAO, Philippines — Security experts from the United Nations discussed in a meeting over the weekend peace issues with Army officials in the forefront of Malacañang's war on local Islamic State-inspired blocs.
Brig. Gen. Cirilito Sobejana of the Army's 6th Infantry Division said Monday he had a brief talk on vital peace and order concerns with Peter Drennan of the Office of the United Nations Department of Safety and Security during their meeting at the Maguindanao Airport in Datu Odin Sinsuat town.
Sobejana is central Mindanao's top military official who has tactical control over four Army brigades and more than a dozen battalions fighting local militant groups operating in the fashion of the Islamic State.
The IS-inspired extremists in central Mindanao are trying to sabotage the peace process between Malacañang and the Moro Islamic Liberation Front.
Also present in the short dialogue between Sobejana and Drennan were other representatives from UN and senior officials of 6th ID, among them Lt. Col. Markton Abo, the division's civil-military operations officer.
The office of Sobejana is involved in various peace-building activities meant to sustain the cordiality between President Rodrigo Duterte and the MILF.
The MILF has two compacts with the government, the 2013 Framework Agreement on Bangsamoro and, subsequently, the 2014 Comprehensive Agreement on Bangsamoro.
Sobejana said he provided the visiting UN officials an impromptu briefing on the gains of the Duterte administration's peace process with Moro rebels.
UN agencies have been helping push the southern Mindanao peace process forward for more than two decades now.
Drennan's visit to Maguindanao came just four days after the bicameral committee of the House of Representatives and the Senate approved the Bangsamoro Basic Law.
The BBL was crafted jointly by representatives from the government and the MILF, grouped together as the Bangsamoro Transition Commission.
Once ratified via a plebiscite involving voters in its proposed core territory, the BBL shall pave the way for the replacement of the Autonomous Region in Muslim Mindanao with an MILF-led politically and administratively-empowered Bangsamoro regional government.
Sobejana said he and Drennan also talked about the 6th ID's campaign against local militant blocs using the black IS flag as revolutionary banner.