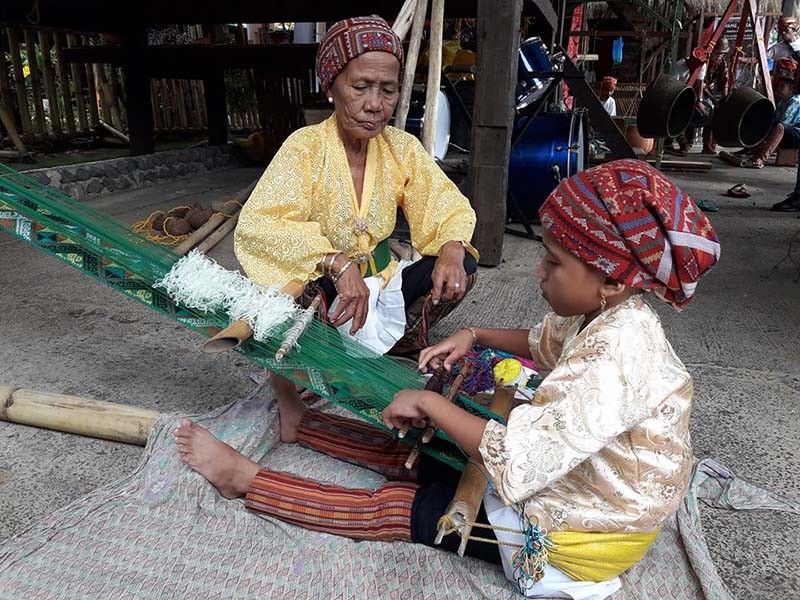 The renowned weaver Ambalang Ausalin teaches a child how to weave colorful tennun fabric at the Yakan model Village in Cotabato City.
Philstar.com/John Unson
Tourists flock to Yakan tribe village display in Cotabato
John Unson
(philstar.com) - July 18, 2018 - 5:12pm
COTABATO CITY, Philippines — More than 7,000 domestic and foreign tourists have visited the now eight-week Yakan model village here where there are two "national treasures" as bonus attractions.
The duo, Yakan cloth weaver Ambalang Ausalin, 75, and the 78-year-old kulintang musician Uwang Adhas, are among what visitors would like see, besides the cultural shows depicting the ethnicity of the native inhabitants of Basilan province in the Autonomous Region in Muslim Mindanao.
Designated settlers in the popular Yakan model village here prayed for peace in gatherings there the past three days to highlight the aspirations of Basilan residents for sustained tranquility in their island province.
There are Yakan, Tausug, Maguindanao, Maranao and Samah mock dwelling enclaves existing inside the 32-hectare capitol compound here of the Autonomous Region in Muslim Mindanao since last month.
The villages were established to highlight the customs and traditions of ARMM's ethno-linguistic groups, operating until December this year as one of the highlights of the commemoration of the ARMM's 29th founding anniversary.
It could possibly be the last if ARMM gets replaced with a Bangsamoro regional entity based on the proposed Bangsamoro Basic Law.
President Rodrigo Duterte is expected to sign the proposed BBL this month in keeping with his administration's peace process with the Moro Islamic Liberation Front.
The cultural activities at the Yakan village early this week were sponsored by local officials from Lamitan City, the capital of Basilan.
Led by Vice Mayor Roderick Furigay, the Lamitan contingent organized a thanksgiving banquet for visitors where an Imam prayed for peace and progress in Basilan, now an investment and tourism hub in the autonomous region.
The ARMM also covers Lanao del Sur and Maguindanao, both in mainland Mindanao, and the islands of Sulu and Tawi-Tawi.
Of mixed Yakan and Zamboangueño ancestry, Furigay, now in his second term as vice mayor, said what is fascinating with the Yakan village here is the presence of Ausalin and Adhas to entertain guests.
Ausalin and Adhas were both named "Philippine treasures" by the National Commission for Culture and Arts in recognition of their vaunted talents in weaving the iconic Yakan tennun fabric using a wooden handloom and in kulintang performances, respectively.
Both of them are from Lamitan City, home to mixed Muslim and Christian residents thriving together in its 45 barangays.
"We are a proud people. We have centuries-old traditions meant to keep peace in our province, now rising as a new investment area in ARMM, a result of keeping our cultures and community norms," Furigay said Wednesday.
He said he is thankful to the chief executive of ARMM, Gov. Mujiv Hataman, for having focused on high-ticket infrastructure thrusts that gave Basilan's economy a big boost.
"The present ARMM administration is also preserving the unique cultural and ethnic identities of all people in the autonomous region. That is good," Furigay said.
Furigay said the model Yakan village will help educate local and foreign tourists on how Basilan residents go about with their daily activities in their dwelling places.
The appointed leader of the Yakan village, located at one side of the ARMM capitol compound, is human rights lawyer Laisa Masuhud-Alamia, regional executive secretary of Hataman.
More than 7,000 guests have signed on the registry of visitors in the Yakan village since it was launched last month, along with four other mock enclaves depicting the ethnic Tausug, Samah, Maranao and Maguindanaon communities.