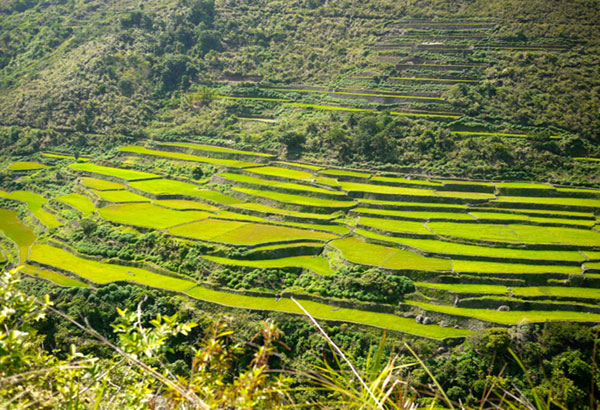 The project found that some strains of heirloom rice are no longer being planted and others are nearly extinct.
File photo
Gene banks to ensure supply, survival of Cordillera's heirloom rice
BAGUIO CITY, Philippines — Seeds of the highland region's famed centuries-old heirloom rice are being kept in storage to ensure that they will not be wiped out.
Through the Heirloom Rice Project, a collaboration among the Department of Agriculture, International Rice Research Institute and Philippine Rice Research Institute, the seeds will be stored in a black box to keep them safe for between 25 to 40 years.

Currently, 69 heirloom rice landraces — particular strains that have evolved and have been cultivated over time — from Benguet, Ifugao, Mountain Province and Kalinga are kept in separate genebanks maintained by IRRI and PhilRice.
An additional 126 inherited races will be included this year from the project's expansion barangays, bringing the number of samples to 195.
PhilRice said the threat of losing these valuable materials such as the heirloom rice makes conservation efforts increasingly more urgent and important.
The project also discovered through community consultations that some landraces that are no longer being planted while others are on the verge of extinction.
"The rice we ate, which was planted by our forefathers, are long gone and have been replaced," Rosa Dungawan, 73, said. She said she regrets that even though she had the opportunity to taste the heirloom rice, her grandchildren did not.
Agriculturist May Ann Tuba-ang said that in case of unforeseen events that endanger the current landraces, the community can retrieve the seeds from IRRI and PhilRice for reproduction.
Aside from the conservation of heirloom rice, the project also aims to preserve the rice through increased production to encourage farmers to continue producing the rice passed down by their ancestors.