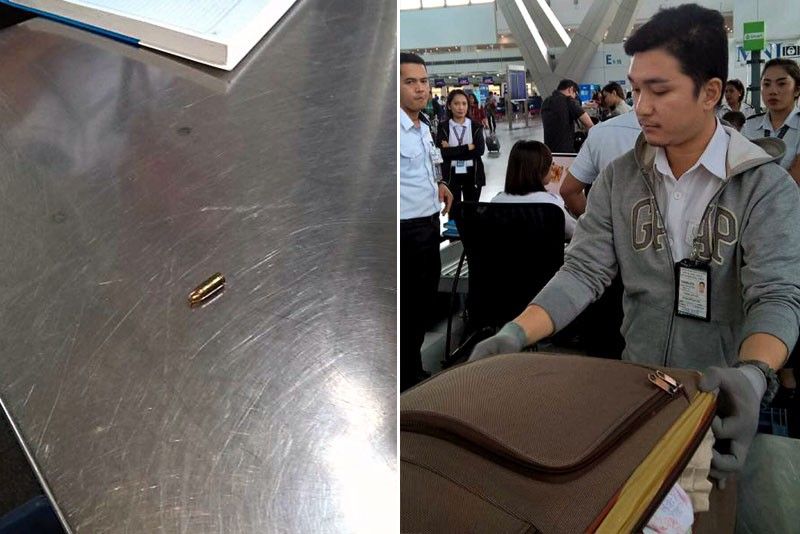 An unidentified airport employee opens Kristine Bumanglag-Moran's bag, in which she claims his colleague planted a bullet(left).
Image taken from Moran's Facebook post.
3 passengers held for bomb joke, bullet, false claim
Rudy Santos
(The Philippine Star) - June 17, 2018 - 12:00am
MANILA, Philippines — Three passengers were detained at the Ninoy Aquino International Airport (NAIA) in separate incidents since Friday.
Alvin Malimban, 44, was arrested upon arriving at NAIA from Saudi Arabia for allegedly cracking a bomb joke.
In a complaint filed by Philippine Airlines flight attendant Marissa Galvez, Malimban, who works as a manager for a company in Riyadh, made a scene after he was refused a third glass of wine.
When the attendants prevented Malimban from getting a bottle of wine from the plane's galley, he allegedly created a scene and said, "Pasasabugin ko itong eroplano (I will blow up this airplane)."
Malimban was handcuffed upon arriving at the airport.
The overseas worker, his wife and daughter asked Galvez to forgive him. Malimban claimed he asked for more wine because he just wanted to sleep as soon as possible after the 10-hour flight.
He is being held at the airport police headquarters after charges of unjust vexation, alarm and scandal and violating Presidential Decree 1727, the anti-bomb joke law, were filed against him before the Pasay City prosecutor's office.
'Missing' phone
Meanwhile, a passenger bound for Brisbane, Australia was briefly detained after he made a scene at the NAIA Terminal 2, accusing Office for Transportation Security (OTS) personnel of theft Friday night.
Wilfredo Cabigao had just placed his bags in the X-ray machine when he said his cell phone was missing from his hand-carried bag and accused OTS personnel of stealing it.
Police officers searched Cabigao's bag in his presence and found the cell phone in it.
Airport security officer Danilo Santos said the alarm and scandal case against Cabigao was settled after the passenger wrote a letter admitting he was in the wrong.
A source, however, said the OTS will pursue the case against Cabigao once he returns to the country.
'Tanim bala' returns?
In a Facebook post on Friday, government employee Kristine Bumanglag-Moran said she was at the NAIA Terminal 3's Gate 2 to check in for a flight going to Zamboanga when the officer said her bag was to be opened for inspection.
She obliged, thinking that the X-ray machine operator had seen the "black box" in the bag, referring to a piece of equipment used by physical therapists to treat patients.
Moran said one of the officers, whom she identified as a "man with the grey sweater" helped her open her bag while another officer claimed to have found a 9mm bullet in the front pocket of her bag.
She said she was furious and yelled at the airport personnel. A police officer approached her and assured her that nothing would happen to her – the incident would just be recorded in a logbook and the bullet confiscated.
"Tanim bala is real!" she said in her post.
The Manila International Airport Authority (MIAA), responding to Moran's post, said "tanim bala is a thing of the past."
Tanim bala is an extortion scheme in which airport personnel allegedly plant a bullet in a passenger's bag and threaten to arrest the passenger unless he or she gives them money.
In July 2016, President Duterte issued an order prohibiting authorities from arresting passengers for bullets in their luggage.
"Passengers found to have bullets or bullet-like items in their bags are now allowed to take their flight after proper logging of the incident. Prohibited items like bullets or ammunition whether as amulets or for any purpose are subject for confiscation," the MIAA said.
"Finding bullets or bullet like items in passenger's luggage is not unusual in NAIA.
We have records to prove that to this day, a lot of travellers still carry these items in their bags; knowingly because some claim they serve as amulets, unknowingly because the bag was just borrowed from a friend or a relative," the agency added.