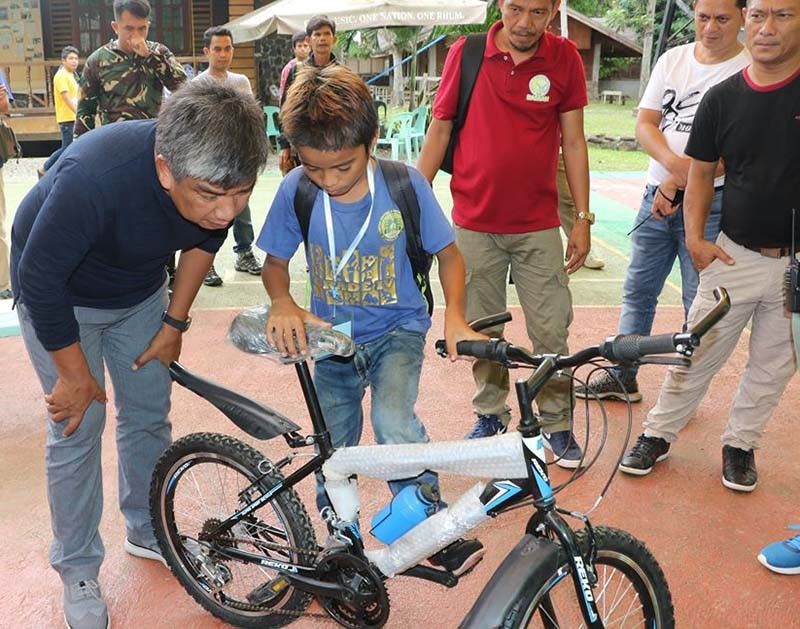 ARMM Gov. Mujiv Hataman huddles with Tariq, an erstwhile child-warrior of the Abu Sayyaf, now a beneficiary of the Program Against Violent Religious Extremism.
Philstar.com/John Unson
ARMM helps former rebels return to normal life
John Unson
(Philstar.com) - April 21, 2018 - 4:05pm
BASILAN, Philippines — The Abu Sayyaf in this island province only has three commanders now, all hesitant to surrender the way more than 200 followers did in recent months due to criminal cases they face in courts.
The followers of the three Abu Sayyaf leaders --- Radzmil, Abdullah and Furudji --- surrendered through the joint efforts of Lt. Gen. Carlito Galvez Jr., chief of the Armed Forces of the Philippines, Brig. Gen. Juvymax Uy of the 104th Brigade and the Regional Peace and Order Council-Autonomous Region in Muslim Mindanao.
Galvez was commander of the Western Mindanao Command, which has jurisdiction over military units in the autonomous region, before President Rodrigo Duterte designated him AFP chief.
More than a hundred of the former Abu Sayyaf militants not wanted for any criminal offense appeared at the headquarters of the 4th Special Forces Battalion in Barangay Cabunbata in Isabela City in Basilan on April 17 to grace the joint launching by the ARMM government of the Program Against Violent Extremism, or PAVE.
The PAVE is supported by Galvez and Uy and the provincial government of Basilan and all of its constituent-municipal local government units in the province.
Hataman said Saturday he is optimistic Galvez can help the ARMM get the support of the Department of Justice in working out the speedy litigation of pending cases against Basilan-based Abu Sayyaf militants for them to have a chance to start life anew as peaceful Filipino citizens.
"In PAVE, we don't give special treatment to Abu Sayyaf members who are being prosecuted for criminal offenses. It is always emphasized to those whose surrender are being secured by local officials and community elders that if there are cases against them, only the court has authority to either convict them, or exonerate them. They should have their day in court," Hataman said.
Functions and powers of the DOJ and the judiciary are not devolved to ARMM, which has a regional charter, the Republic Act 9054.
The PAVE is being complemented by the 104th Brigade and its component-units, the 74th, the 64th and the 18th Infantry Battalions and the 4th Special Forces Battalion with periodic humanitarian missions benefiting marginalized communities.
In Basilan's Sumisip town, which is under the 64th IB, soldiers and municipal elected officials are cooperating in domestic socio-economic and educational programs meant to prove to Abu Sayyaf members and supporters the ARMM government's sincerity and readiness to reintegrate them into mainstream society if they decide to surrender and pledge to reform for good.
"There are only few of them now in Sumisip. They move around only in four small areas now, so mobile because our soldiers keep chasing them with the help of barangay tanods and members of the Citizens Armed Forces Geographical Unit," said Lt. Col. Philip Fagel, 64th IB commander.
One of those present in the April 17 launching of the PAVE was an 11-year-old child, Tariq, who worked as courier of improvised explosive devices the Abu Sayyaf detonated in selected targets.
Officials gifted him with a new bicycle to hasten his rehabilitation, now being facilitated by experts from the ARMM's social welfare department.
Tariq said he is apprehensive of possible retaliations by families that suffered from Abu Sayyaf atrocities.
"I want to live a normal life now," he said in Yakan dialect.
Hataman and Army officials in Basilan said Saturday relatives of still active Abu Sayyaf leaders Radzmil, Abdullah and Furudji have been sending feelers since early this year purporting that they are trying to convince them to surrender.
"Another problem is that while they don't doubt PAVE's objectivity, they are aware that this is a regional program of ARMM and is distinct in stature and scope if compared to the national government's fully institutionalized amnesty and reconciliation program for members of the New People's Army," said a public school principal in Basilan.
The long-wanted Radzmil and Furudji are both from Sumisip while Abdullah hails from Barangay Dugaa in Tuburan.
Abdullah's group was implicated in the roadside bombing that nearly killed the mayor of Basilan's Tuburan town, Dorie Kalahhal, about two years ago.
Galvez said one reason for the surrender in batches of Abu Sayyaf militants in Basilan is the ARMM's construction in the past five years of dozens of concrete farm-to-market roads that connected hostile areas to town centers and made Abu Sayyaf lairs so accessible to military armored combat vehicles.
Galvez said he will do his best in helping put up an institutionalized reconciliation program for Abu Sayyaf and other Islamic State-inspired militants, with Hataman's PAVE initiative as baseline platform.
"We have a national chief executive, President Rodrigo Duterte, who is tough on criminals and enemies of state, but has a kind heart for rouge sectors wishing to live in peace under Philippine Constitution," Galvez said.
Uy, commanding officer of the Basilan-based 104th Brigade since February 2018, recommended the formulation of programs meant to attract IS-inspired militants to the fold of law based on prevailing domestic socio-economic and political settings in provinces where they operate.
"We cannot import programs from outside. We have to consider that some of these militants became militants because of poverty and underdevelopment, or perhaps because they were persecuted by political leaders, or perhaps as religious adventurism," Uy said.
Uy said reconciliation through community-building and humanitarian interventions are the best means of addressing violent religious extremism now plaguing many southern areas.
"The military in Basilan shall always exhaust all peaceful means of addressing these threats, in coordination with local officials, barangay leaders and the police. Use of military might shall only come after all peaceful means of addressing each problem had been explored. Use of force shall come only as last and final option," Uy said.