Japanese, 2 Pinoys arrested for kidnapping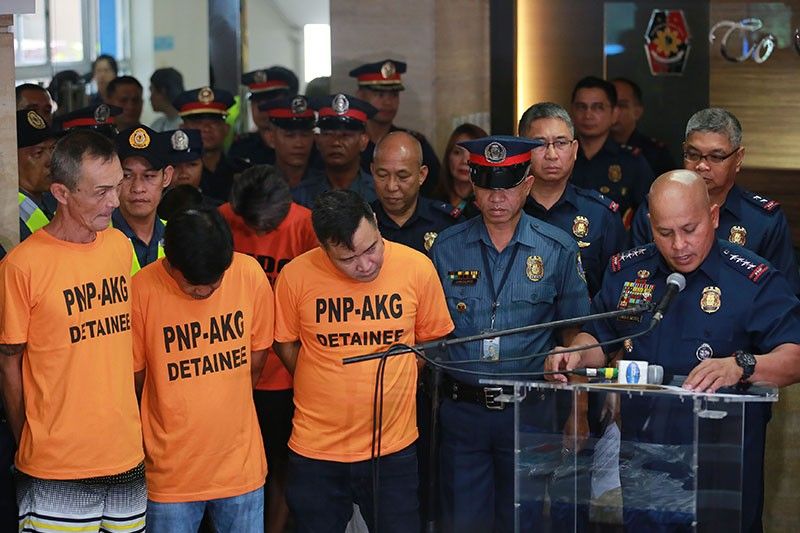 MANILA, Philippines — A Japanese and two Filipinos were apprehended for allegedly kidnapping a Japanese tourist last month, the Philippine National Police (PNP) said yesterday.
Miyashita Takashi, of Tokyo, was nabbed along with his Filipino cohorts, siblings Roberto, 54, and Reggie Reyes, 47.
PNP chief Director General Ronald dela Rosa said the suspects have been charged for the kidnapping of Yuji Nakajima, 32.
PNP Anti-Kidnapping Group director Senior Superintendent Glenn Dumlao said Nakajima was kidnapped upon his arrival from Japan on March 22.
Dumlao said the victim was accompanied by Yusuke Obara when they arrived in Manila.
"The two were business partners who allegedly had a rift," Dumlao said.
Obara supposedly connived with the Reyes brothers, who took the victim from a hotel somewhere in Metro Manila.
The siblings told Nakajima he had to meet with Takashi.
The victim agreed after Obara assured him of his safety.
The Reyes siblings brought Nakajima to the house of their cousin, Verhel Lumague, in Barangay Sipat in Plaridel, Bulacan where the victim was rescued last week.
Probers said the suspects called Nakajima's family in Japan and demanded ransom in exchange for his release.
Dumlao refused to disclose the amount.
Takasi and the Reyes siblings were arrested in follow-up operations in Pasay, Pasig and Parañaque.
Police said they seized from the suspects a 9mm pistol and various IDs supposedly from the National Bureau of Investigation.
Japanese authorities have launched a manhunt for Obara, who left for Japan on March 24.