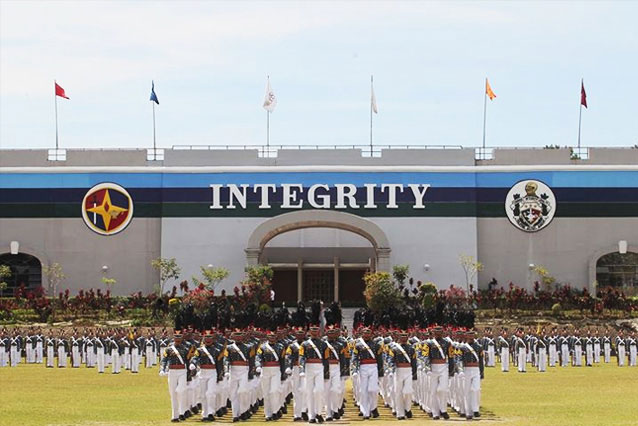 Fourth-class cadets, or plebes, of the Philippine Military Academy undergo eight weeks of rigorous training before they are integrated into the cadet corps. PMA
Public consultation sought on land grant for PMA expansion
BAGUIO CITY, Philippines — The Philippine Military Academy's expansion plans hit a roadbloack this week as Benguet province, which has jurisdiction over the planned expansion area in Barangay Loakan, here opposed a plan to reserve areas in Camp 4 in Tuba town for military training.
The provincial board passed a resolution on second reading last Monday asking President Rodrigo Duterte to hold off on the signing the proclamation to expand the PMA's training grounds..
Environment Secretary Roy Cimatu last month issued a memorandum seeking a presidential proclamation granting Philippine Military Academy more land parcel in Tuba town. The land grant will also ensure the academy has a water source and protect the area from alleged intrusions and other forms of claims by informal settlers
But Benguet Gov. Crescencio Pacalso in March endorsed the plea of Indigenous Peoples' Mandatory Representative Tita Bugtong of Tuba seeking public consultation and a certificate of pre-condition on the area being proposed.
Benguet Indigenous Peoples' Mandatory Representative Sario Copas also endorsed the Tuba IPMR's plea.
Bugtong also sought the help of National Commission on Indigenous Peoples chairperson Leonor Quintayo, seeking a consultation before the signing of any presidential proclamation over the land.
In her letter, Bugtong "strongly [requests] that before the issuance of presidential proclamation reserving an additional area of 105,818 hectares over a certain parcel of land of the public domain for multi-purpose training and other military facilities of the PMA in Tuba, a public consultation and Free Informed Prior Consent should be first conducted."
Under the Indigenous Peoples' Rights Act of 1997, IPs have a right to stay in their ancestral domain. Under the law, they cannot be "relocated without their free and prior informed consent, nor through any means other than eminent domain."