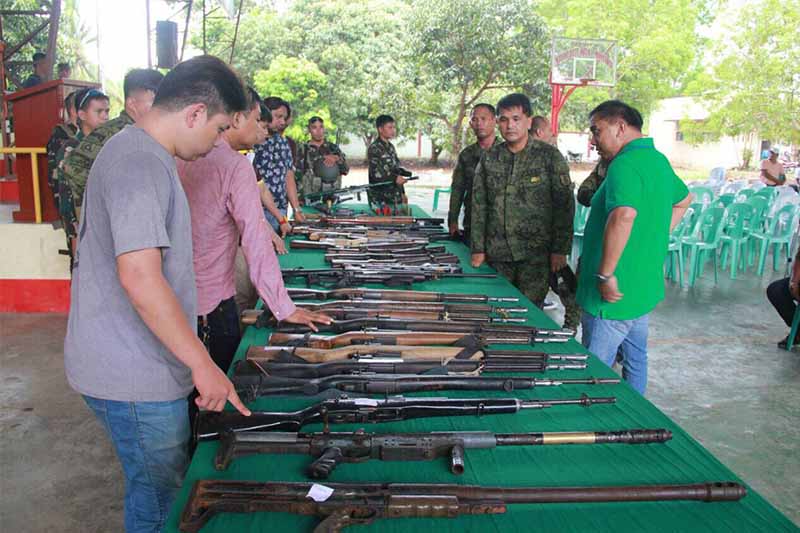 Photo shows some of the firearms that officials and locals of Maguindanao surrendered to the military these past days. WESTMINCOM
More Abu Sayyaf surrender to Westmincom
MANILA, Philippines — More members of the Abu Sayyaf group surrendered to the Philippine military this week, bringing the number of militants who yielded this year to more than 200.
Personnel of Marine Battalion Landing Team 9 successfully facilitated the surrender of Rizal Karaman, a follower of the late Abu Sayyaf leader Butchoy Hassan, the Western Mindanao Command said.
Karaman surrendered to Brig. Gen. Custonio Parcon, commander of Joint Task Force Tawi-Tawi in Sanga-Sanga, Bongao, Tawi-Tawi at 10 in the morning Tuesday.
The former militant, who underwent medical checkup to determine any condition that needed attention, also turned over his Garand rifle to soldiers when he surrendered.
On Monday, Alnijul Caray Aspi, also known as Misang, also surrendered to Lt. Col. Ronaldo Mateo of the 32nd Infantry Battalion in its headquarters in Bon-Bon, Patikul, Sulu.
Aspi, 24, is a resident of Parang, Sulu and was a follower of Abu Sayyaf subleader Majan Sahidjuan, also known as Apoh Mike.
Aspi yielded a Garand rifle and underwent a custodial debriefing conducted by the troops from Joint Task Force Sulu.
President Rodrigo Duterte was recently in Sulu to receive hundreds of unregistered firearms and Abu Sayyaf militants who surrendered.
According to the military's Western Mindanao Command, a total of 204 Abu Sayyaf members surrendered to its joint task forces from Jan. 1 to March 27 this year.
Eighty-five of the militants came from Basilan, 80 from Sulu, 37 from Tawi-Tawi and two from Zamboanga, according to Westmincom.
"This only manifests the progress that we are attaining in our all-out offensives to defeat the Abu Sayyaf Group in ZamBaSulTa area, particularly in the province of Sulu, and we are elated to have the support of Suluanons," Lt. Gen. Carlito Galvez Jr., Westmincom chief, said.
"The President's message is very clear, he will be open to accept Abu Sayyaf surrenderers (sic) if they decide to do such and they will be made to undergo programs that are similar to that of the enhanced CLIP of the NPA surrenderers (sic)," Galvez added.
13 surrender in Basilan
A leader of the Basilan-based Abu Sayyaf group and 12 of his followers surrendered to the military in Lamitan City, Basilan on Wednesday.
Brig. Gen. Juvymax Uy, commander of Joint Task Force Basilan, said Basilan-based Abu Sayyaf leader Nurhassan Jamiri is one of the two remaining top leaders of the Abu Sayyaf group based in Basilan. The others who remain at large is Furuji Indama, who was earlier reportedly groomed to succeed slain leader Isnilon Hapilon.
Uy said Jamiri and his followers surrendered also surrendered 12 guns to the 3rd Scout Ranger Battalion led by Lt. Col. Montano Almodovar
"Yes, it's positive Nurhassan Jamiri surrendered with his 12 followers in Lamitan," Uy said.
He said Jamiri's group claimed the surrender was due to the pressure due to the relentless military operation and the recent pronouncement of President Duterte to allow those Abu Sayyaf members who want to surrender.
"Nurhassan Jamiri and his followers have to undergo the process of debriefing and proper documentation at the military camp," Uy said.
Meanwhile, officials and locals from four municipalities in Maguindanao surrendered 106 firearms to the Joint Task Force Central in the past two days.
Loose firearms turned over
Maj. Gen. Arnel Dela Vega, the task force's commander, received 100 armaments from officials of Mamasapano, Pagalungan and Datu Montawal in Maguindanao.
On Monday, 13 villages in Mamasapano surrendered 25 different firearms to the 40th Infantry Battalion in its municipal hall.
Pagalungan town on Monday turned over 45 assorted unregistered firearms to the 7th Infantry Battalion and 602nd Brigade while Datu Montawal municipality yielded 30 armaments.
On Tuesday, six firearms including one mortar were surrendered by officials of Shariff Aguak to Lt. Col. Enrique Clement.
"Units took custody of the surrendered firearms and were brought to their respective headquarters for initial inventory, documentation, and safekeeping," said Maj. Gen. Arnel Delavega.
The surrender of firearms was part of the "Balik Baril" program of the local government of Maguindanao amid the military's crackdown on unregistered firearms. For this year, a total of 293 armaments were surrendered by Maguindanao officials to the military. — Roel Pareño reported from Zamboanga City