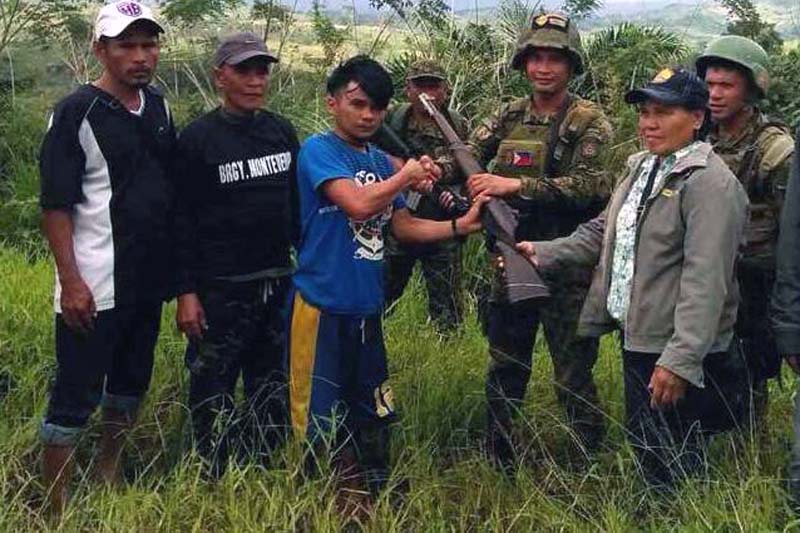 In this December 12 file photo, members of the communist New People's Army surrender to authorities. John Unson, file
Communists dispute 'trend of massive surrenders'
(Philstar.com) - March 26, 2018 - 2:57pm
MANILA, Philippines — So many have reportedly surrendered to the government that the New People's Army should have already been defeated twice over, the Communist Party of the Philippines said Monday to dispute a supposed "trend of massive surrenders" by guerrillas.
In a statement, the CPP's information bureau disputed a claim by Defense Secretary Delfin Lorenzana that there have been 4,356 "NPA surrenderees" between January and March when security forces estimated there were 3,700 NPAs as of January 2018.
According to the Armed Forces of the Philippines, 3,730 of those who surrendered are from the so-called "Militia ng Bayan" or are supporters. Around 97 percent of surrenderees are from the Caraga and Davao regions, the military also said.
"So, 'Congratulations!' are in order for Lorenzana and (President Rodrigo) Duterte, because, by June, they would have defeated the NPA at least two times over," it also said.
"There are, of course, some members of the NPA who have surrendered. That is not being denied. It is the natural course of war," it said, citing Noel Legazpi, a former spokesperson of the National Democratic Front of the Philippines who has surrendered to the government.
It added that most of those who surrendered are unarmed civilians who "have not been charged in court nor has evidence been put forward against them" but whom the government calls members of the NPA.
The surrenders have been credited to the Comprehensive Local Integration Program, a Department of the Interior and Local Government campaign to give former rebels financial and livelihood assistance to help them go back to mainstream society.
No 'step up' in guerrilla operations
In a separate statement, the CPP also disputed Philippine National Police Director General Ronald dela Rosa's claims of stepped up operations by guerilla assassination squads.
"Partisan operations are part of the regular operations of the NPA. These units are dispatched from the guerrilla units of the NPA," it said.
It said there is no basis for dela Rosa's claim, adding that the administration may be "doing some scenario-building to hatch up another tyrannical scheme."
The CPP said "the PNP plan to have a group of 'seasoned retired police officers' to train PNP field personnel on 'anti-sparrow' (from Special Partisan Unit, or SPARU) operations sounds shady."
It said the plan may be similar to the use of "secret marshalls" by security forces in "anti-sparrow" operations in the late 1980s
The "secret marshals" were reportedly used to attack activists, especially among urban poor groups. The operations resulted in extrajudicial executions or "salvagings", the CPP said. — with Artemio Dumlao in Baguio City