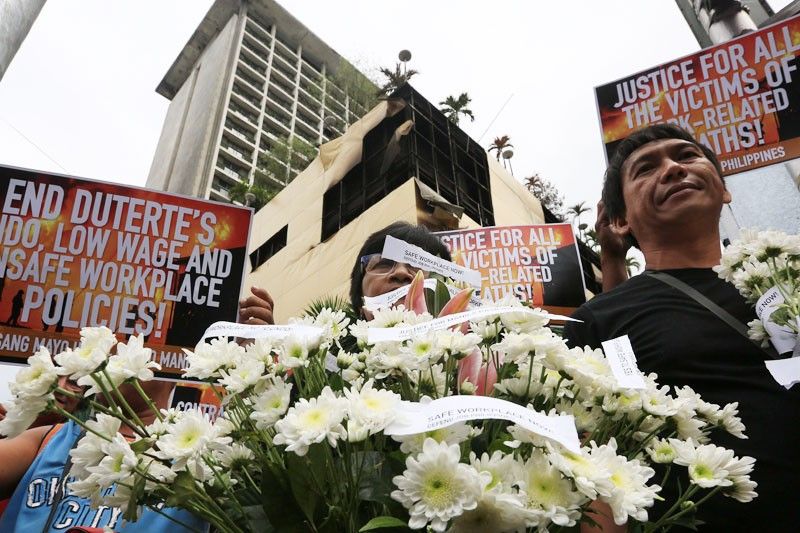 Members of different labor groups stage a rally in front of the Waterfront Manila Pavilion yesterday and offer flowers and prayers to the victims of the fire that razed the hotel over the weekend.
Edd Gumban
'No lights, water during hotel fire'
Rey Galupo
(The Philippine Star) - March 23, 2018 - 12:00am
MANILA, Philippines — An employee of the Philippine Amusement and Gaming Corp. (PAGCOR), who was among the first responders when a fire broke out at the Waterfront Manila Pavilion over the weekend, yesterday said the fire safety equipment at the hotel did not function.
Romeo Rodriguez, 46, a volunteer firefighter for the past 10 years, said the emergency lights, water sprinklers and emergency alarm did not turn on when the fire broke out.
Hotel officials earlier denied claims that the emergency lights, alarms and water sprinklers did not work.
Rodriguez said he was on duty as a driver and was about to have breakfast in his car at the PAGCOR's office along Adriatico street when he heard about the fire on a two-way radio he was given as a firefighter.
"I immediately rushed to the hotel and saw thick smoke coming out of the establishment. I decided to go inside but I stopped because it was so dark. I never saw fire, only thick smoke. I called for PAGCOR's ambulance after I was informed that six of our employees where still unaccounted for and could have been trapped inside," Rodriguez told The STAR.
He said Romeo Ocampo, one of the PAGCOR employees monitoring the closed-circuit television cameras from an office on the fourth floor, confirmed that two other CCTV operators – John Mark Subido and Joe Cris Banang – were still trapped in the hotel.
Ocampo survived after deciding to go to the ground floor where the fire started. He had to negotiate a dark, smoke-filled escape route.
Banang's charred body was recovered in the CCTV room still clutching the digital video recorder that recorded the whole incident, while Subido was discovered in another room.
Rodriguez said he managed to get inside the hotel's lobby and saw firefighters recover the body of Marilyn Omadto, who was lying several meters away from the door leading to the casino at the Ma. Orosa entrance.
Jennilyn Figueroa was found a few minutes later in a room, followed by treasury officer Edilbero Evangelista and security intern Billy de Castro, who were found in another room near the casino's vault.
"They were filled with dirt and ashes and they were dry, indicating that the sprinklers did not function," Rodriguez said.
All four victims were declared dead on arrival at the Manila Doctors Hospital but Figueroa was revived and brought to the intensive care unit.
She succumbed before dawn on Wednesday.
Rodriguez said he also saw PAGCOR employees leading guests out of the casino.
Meanwhile, the Bureau of Fire Protection yesterday formed a six-man investigating team to look into the incident.