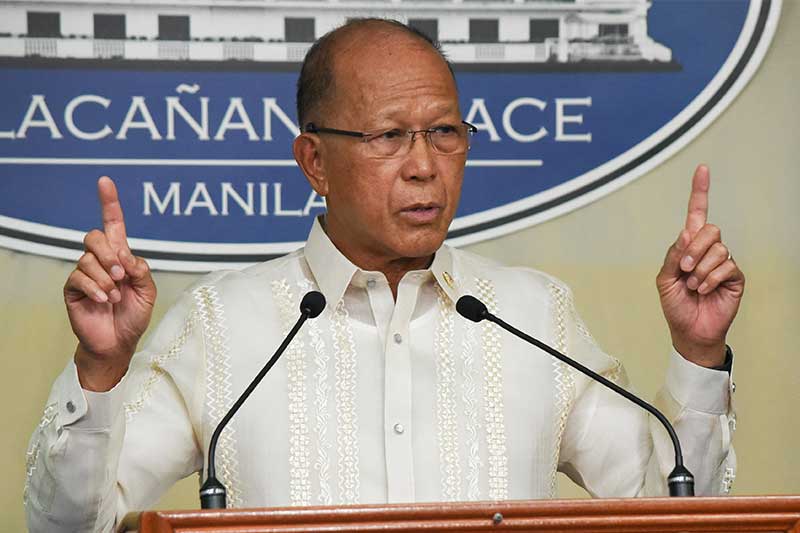 Defense Secretary Delfin Lorenzana said reports that ISIS-inspired groups are in Manila are inaccurate. Presidential Photo
Lorenzana: Reports of ISIS in Manila inaccurate
MANILA, Philippines – Defense Secretary Delfin Lorenana on Monday dispelled reports that ISIS-inspired terror groups have gained a foothold in Metro Manila.
"I don't think they are already here in Manila although we believe that some of the Mautes who escaped from Marawi may have come here to Manila and hide. I don't think they are here to commit trouble," Lorenzana told CNN Philippines' "The Source" Tuesday morning.
Lorenzana made the statement in response to a leaked police memo that ISIS-inspired groups are targeting areas such as Metro Manila, Zamboanga, Davao, Iloilo and Cebu.
The Defense chief said that the supposed leaked memo was a communication between local police units and he has informed Interior officer-in-charge Eduardo Año about this.
"Although the communication is authentic, I think the purpose of that [memo] ISIS in Manila is inaccurate," the Defense secretary said.
Lorenzana said he is confidenct that remnants of the Maute group who are hiding in Manila would not cause harm in the country's capital.
"Nobody can prevent them from travelling but the support that they get here, especially the Muslim communities in Taguig and Quiapo – I don't think that Muslims would like something to happen in their area," he said.
Asked why the government cannot track the remnants of the Maute group in Metro Manila, Lorenzana said that the population in the metropolis is making it hard to find the local terrorists.
The crowded cities in Metro Manila make it easy for the militants to hide, the Defense chief said. Security forces have been upgrading urban combat capabilities since Maute and Abu Sayyaf terrorists took over parts of Marawi City in May 2017, sparking five months of street-to-street fighting..
"The 'jungle' here is more formidable, composed of people... Bahay at tao (houses and people), very easy to hide here for as long as you don't get attention to yourself, you can hide here in Metro Manila," Lorenzana said.
Just last month, a foreigner with alleged links to ISIS was arrested in Manila. The police said they recovered homemade bombs, firearms, ammunition, an ISIS flag and documents detailing an alleged plot to attack the Philippines in the foreigner's apartment.
The suspect, identified as an Egyptian carrying a Tunisian passport entered the country in July 2016 using different passports and aliases such as Haytham Abdulhamid Yusof and John Rasheed Lassoued.
Director Oscar Albayalde, National Capitol Region Police Office chief, said that the suspect had been recruiting followers since 2016.
Albayalde earlier warned that members of ISIS have found "safe havens" in Manila.
The Department of Justice later dropped the charges against the suspect and his Filipino girlfriend because of lapses in police procedure. Police reports on the arrests were not supported by evidence, the DOJ said.