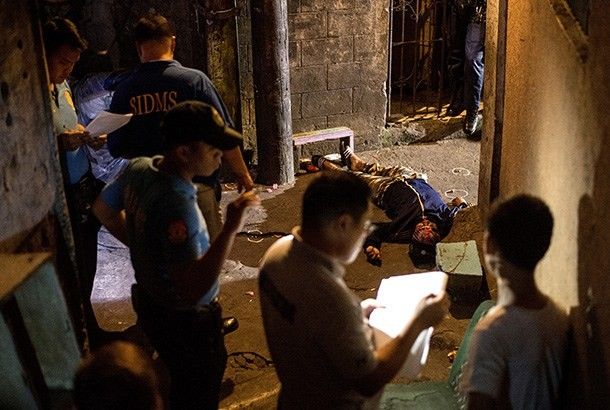 The PNP's Directorate for Intelligence said 12,287 drug personalities were on validated drug watchlists from Dec. 5, 2017 to Feb. 15.Philstar.com/File Photo
PNP drug war relaunch: 1 suspect slain every day
MANILA, Philippines — At least one suspect has been killed every day since the police rejoined the war on drugs last December.
In a report, the Philippine National Police Directorate for Operations (PNP-DO) said 118 persons were killed in anti-drug operations from Dec. 5, 2017 to March 5 this year, or an average of 1.3 persons per day.
The PNP's Directorate for Intelligence said 12,287 drug personalities were on validated drug watchlists from Dec. 5, 2017 to Feb. 15.
PNP-DO chief Director Camilo Pancratius Cascolan said the number of surrenderees continues to increase and there was no armed confrontation under Oplan Tokhang.
Cascolan said at least 4,548 drug suspects surrendered while 12,185 drug personalities were arrested in 7,744 operations from Dec. 5, 2017 to March 5.
Northern Mindanao has the highest number of Oplan Tokhang activities at 1,016 with 529 surrenderees followed by Central Luzon with 1,005 activities and 656 surrenderees.
PNP chief Director General Ronald dela Rosa stressed that Oplan Tokhang targets drug suspects on their watchlists.
Dela Rosa said validation of drug watchlists would continue with the support of Barangay Anti-Drug Abuse Councils (BADACs).
"The implementation of the PNP's Project Double Barrel has been adversely affected to a certain extent in barangays without operational BADACs. These councils are the most formidable anti-drug local government bodies that can be created because of their influence on local residents. They can relate to the needs of their constituents," Dela Rosa said.
P3-M shabu seized
Meanwhile, Edgar Gardon, former administrator of the municipal government in Matnog, Sorsogon, was killed in an alleged shootout with anti-drug operatives in Sorsogon City last Monday.
Two plastic bags of shabu weighing 500 grams with an estimated street value of P3 million, three guns and various types of ammunition were recovered from the fatality, police said.
A certain Wally was killed while Lorin Opida and Paul Padilla were arrested in a sting in Barangay Layon in Ligao, Albay on Friday. – With Celso Amo