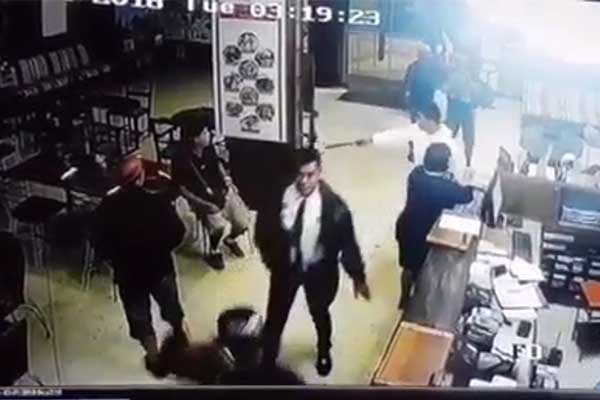 According to initial report of the Southern Police District, four males armed with short fire arms robbed Mabuhay Manor Hotel at around 3:19 a.m of January 2. Screengrab from security cam footage
Pasay police considering 'inside job' in Pasay hotel robbery
(philstar.com) - January 3, 2018 - 2:38pm
MANILA, Philippines — Police are looking into the possibility that the robbery at Mabuhay Manor Hotel in Pasay City early Tuesday morning was an inside job.
The Southern Police District said that the Pasay City Police Station will conduct an "in-depth investigation" into hotel employees after it was found that hotel management had failed to deposit its earnings over the holiday season.
According to the sworn statement of Rudy De Guzman, Manor Hotel night auditor, there were of six of them at the hotel's front desk when four unidentified men burst in the lobby and declared the robbery.
The incident happened around 3:19 a.m. of January 2.
Three of the men wore masks.
De Guzman narrated that one of the suspects punched him and ordered him to open the vault. He, however, refused to do so.
The suspects then moved to rob hotel guests in the lobby.
The robbers took cash, jewelry, gadgets and the hotel guard's .38 revolver.
Police said that they are still conducting a follow-up investigation to identify the four suspects. They are also reviewing security footage of nearby establishments and have requested a copy of the security footage from Barangay 76 Zone 10 of Pasay City.