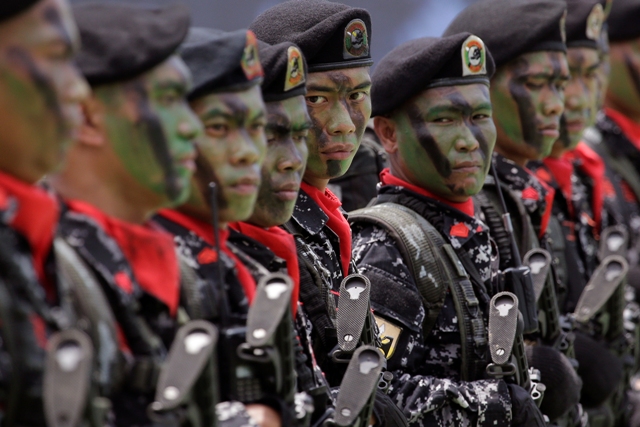 "I now have 11 battalions...Three battalions are still in Marawi and involved in the rehabilitation and reconstruction of the city," Brig. Gen. Cirilito Sobejana, Joint Task Force Sulu commander, told reporters after attending a disaster and command briefing at Camp Aguinaldo yesterday. AP/Aaron Favila, file
11 battalions to hunt Abu Sayyaf in Sulu
Jaime Laude
(The Philippine Star) - December 5, 2017 - 4:00pm
MANILA, Philippines — At least 11 battalions will be deployed in Sulu to finish off Abu Sayyaf bandits and rescue their remaining hostages, an official said yesterday.
"I now have 11 battalions...Three battalions are still in Marawi and involved in the rehabilitation and reconstruction of the city," Brig. Gen. Cirilito Sobejana, Joint Task Force Sulu commander, told reporters after attending a disaster and command briefing at Camp Aguinaldo yesterday.
Sobejana said two Scout Ranger battalions that fought in Marawi are also back in Sulu.
"As we are gaining ground against the bandits, the more they are becoming desperate…They are now targeting the poorest of the poor in their kidnapping activities," he said.
Sobejana said 17 bandits who joined Maute militants have been killed in the fighting in Marawi.
He said the bandits are also losing the support of local communities, citing the encounter between fighters of the Moro National Liberation Front and the Abu Sayyaf in Sulu on Monday.
The military said there are around 400 remaining Abu Sayyaf bandits headed by Radullan Sahiron.
Sobejana said reports that Sahiron would surrender turned out to be "not sincere" upon verification.
No holiday break
Unless ordered, Sobejana said they would continue with their offensives against the Abu Sayyaf during Christmas and New Year.
"I don't know yet if we will have a Christmas and New Year break," he said.
Seven foreigners and four Filipinos remain in the hands of the bandits.
"The relentless operations will not stop because we still have hostages and a number of Abu Sayyaf members to be neutralized," Capt. Jo-Ann Petinglay, Western Mindanao Command spokesperson, said.
Petinglay said the operations also resulted in the mass surrender and restricted the movement of bandits. – Roel Pareño