Wesmincom: All Maute siblings involved in Marawi siege dead
December 4, 2017 | 11:50pm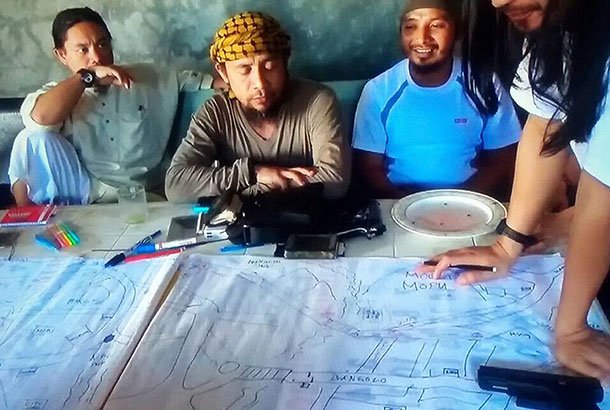 Hunt on for senior terror leader Abu Dar
COTABATO CITY, Philippines — All seven Maute siblings who led the siege of Marawi City were killed in clashes with the military between May 23 to October 23.
This was announced on Monday by Lt. Gen. Carlito Galvez, Jr. of the Armed Forces Western Mindanao Command during a meeting in Cotabato City of the Autonomous Region in Muslim Mindanao regional peace and order council.
Galvez said security forces have focused their manhunt on senior Maute leader Abu Dar, who is still at large.
Abu Dar was a member of the central leadership of the Maute terror group, which has been decimated by the deaths of brothers Omar and Abdullah Maute.
Omar and Abdullah, founders of the Maute group, were both killed in Marawi City.
Their father, Cayamora, who was arrested in Davao City in June, died of an ilness while in a police detention facility in Metro Manila.
Cayamora's first wife, Farhana, mother of the seven slain Maute brothers, was nabbed by personnel of the Police Regional Office-ARMM in Masiu town in Lanao del Sur in August. She faces rebellion charges.
"Abu Dar can likely assume the leadership of the Maute terror group," Galvez told members of the RPOC, chaired by ARMM Gov. Mujiv Hataman.
Chief Superintendent Graciano Mijares, director of PRO-ARMM, was also present at the meeting on Monday.
Mayor Dimnatang Pansar of Butig, hometown of the Maute clan, said he has also received reports purporting that all seven Maute siblings involved in the siege are dead.
"Many of their leaders were killed during the conflict in Marawi City," Pansar said.
Pansar, president of the league of mayors in Lanao del Sur, said the bigger challenge now for the government is the rebuilding of Butig and Marawi City.
Maute terrorists and security forces clashed in Butig three times between 2015 to late 2016, leaving its municipal capital in ruins.
'Good Mautes'
RPOC members have agreed to cooperate in returning into mainstream society the "good Mautes" who are neither militants nor supporters of the Maute terror group but were forced to go underground as a consequence of the five-month hostilities in Marawi City.
"We will not treat them as special people. We can only help them return to their communities but subject to coordination with the police and the military," Hataman said.
ARMM Vice Gov. Haroun Al-Rashid Lucman, who hails from Bayang town in Lanao del Sur, said many of the Mautes not connected to the terror group have been ostracized by their communities.
"My daughter's classmate in medical school, whom we know is not a terrorist, has dropped out. She wants to return to school but could not because she belongs to the Maute clan," said Lucman, concurrent ARMM regional Social Welfare secretary.
Hataman has called on all 39 municipal peace and order councils in Lanao del Sur to help the police and military prevent recruitment of their residents by local IS-inspired blocs.
"There must be strong semblance of government in the municipalities. War is destructive. We have to prevent conflicts within our level first before we let the military come in. Our presence in the municipalities will help a lot," Hataman said.
Rehabilitation will continue
Lucman told The STAR on the sidelines of Monday's RPOC meeting that there are mayors actively helping locate Abu Dar, who had escaped from Marawi City with no fewer than 40 followers in tow.
Lucman said vigilant local officials and barangay residents twice foiled an attempt by the group to intrude into Bayang.
Hataman assured the Lanao del Sur league of mayors and representatives of the provincial government that his administration will keep its promise to raise rehabilitation funds for Marawi City from savings of different regional line agencies.
Galvez said the efforts of the ARMM administration and the national government to rebuild Marawi should forge ahead as planned.
"If we fail, we will give these violent religious extremists an issue they can use to generate hatred to the government and entice prospective recruits to join their fold," Galvez said.