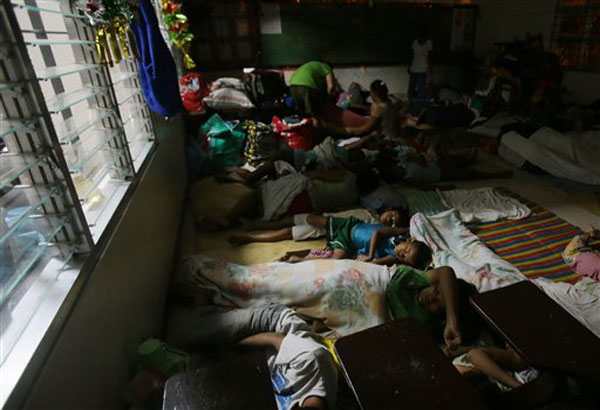 Alcadev said the military has been blocking the flow of relief goods like rice to the evacuation center in Lianga. AP/Aaron Favila, file
Army restricting Lumad evacuees' access to aid, Alcadev says
(Philstar.com) - December 1, 2017 - 3:21am
MANILA, Philippines (Updated 11:41 a.m.) — The Army has been blocking the entry of relief goods into an evacuation center in Lianga, Surigao del Sur where Lumads have fled to avoid military operations, a group said.
Alternative Learning Center for Agricultural and Livelihood Development Inc. (Alcadev) said in an online exchange that the military has been restricting access to the evacuation center in Barangay Diatagon in Liangaby the local government and by non-government organizations.
Alcadev said there are at least 250 families or around 1,100 people at the site and the military only allowed the entry of two sacks of rice into the center on Thursday.
"The military is starving us. Public pressure is needed," Alcadev said.
The group said the Army allowed the entry of just five sacks of rice on Wednesday. "That equates to only one kilo per family per day. And that did not even suffice! How much more when only two sacks of rice were allowed?"
Alcadev said on its Facebook page that a relief team — which included members of its staff, of emergency response NGO Accord Inc. and a priest from the Diocese of Tandag — headed to Barangay Diatogon to check on the needs of the Lumad evacuees on November 28 were told to turn back.
Alcadev, which runs an alternative learning system for indigenous youth in the Surigao and Agusan provinces, said it was not their first time to provide assistance to the Lumads and the visit had been coordinated with the local government units.
"Ngunit ayon sa sundalong humarang sa amin, pumunta at kausapin daw muna namin ang Battalion Commander nila. Noong tinanong namin kung bakit, 'di rin daw nila alam. (But the soldier who blocked our way said we had to to go and talk to their battalion commander. The soldiers could not explain why we had to do that)," Alcadev said.
The Army's 4th Infantry Division, which operates in the Caraga region, has yet to respond to a request for comment as of this post.
Alcadev said this was a repeat of an incident in July when a similar team was told to report to the battalion commander. "Nag-sermon lang nang matagal ngunit 'di rin kami pinapasok (We were scolded for a long time and not allowed to go on)," it said.
According to an earlier Alcadev post on November 26, military operations in villages in Lianga and San Agustin in Surigao del Sur led to 706 students from nine Lumad schools and 51 teachers from Alcadev and from Tribal Filipino Program of Surigao del Sur Schools having to evacuate.
Harassment
Lumad schools like the ones that Alcadev runs in Lianga have long complained of harassment by security forces. Their executive director Emerito Samarca was killed along with school and community leaders Dionel Campos and Aurelio Sinzo in Lianga in 2015.
Their deaths were allegedly at the hands of the Bagani paramilitary group.
The killing led to the displacement of around 2,000 members of the IP community in Lianga, who did not return to the area for around a year.
The government later walked back the threat, saying the president meant bombing empty structures.
Lumad schools operate in indigenous peoples' communities that the Department of Education might not be able to reach because of the remoteness of the area. — Jonathan de Santos