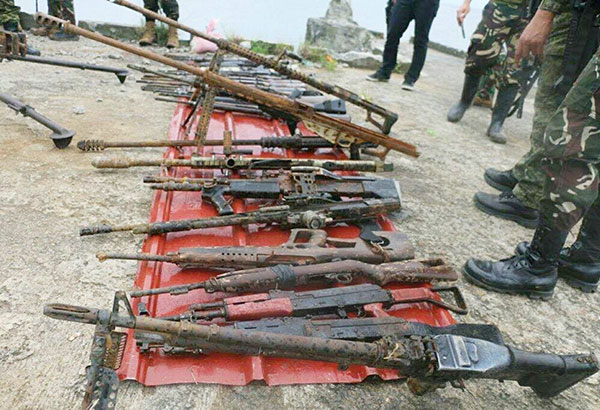 Some of the firearms recovered from Lake Lanao are shown in this photo courtesy of the Joint Task Force Ranao.
Maute guns recovered from Lake Lanao
(The Philippine Star) - November 13, 2017 - 4:00pm
ZAMBOANGA CITY, Philippines —At least 30 high-powered firearms were recovered from Lake Lanao as government troops continued clearing operations in Marawi over the weekend.
Brig. Gen. Roseller Murillo, Joint Task Force Ranao commander, said the guns were found submerged in the water in front of buildings that Maute militants had occupied in Barangay Marinaut. The militants made their final stand in the area.
Col. Romeo Brawner, task force deputy commander, said the arms cache consisted of four machine guns and 26 rifles – 12 M14s, four caliber .50s, two AK 47s, two carbines, three FALs, two M16s and an M79. The guns are under the custody of the task force for documentation and labeling.
Brawner said personnel of the 55th Infantry Battalion, Scout Ranger Class 202, First Scout Ranger Battalion, Civil Military Operations, military engineer and 6th Special Forces Battalion were among those conducting clearing operations.
He said scuba divers of the Naval Forces Western Mindanao were deployed in the area after one of the guns was spotted on the surface of the lake.
"It is believed that the terrorists during the final hours of the firefight…threw their weapons into the lake," Brawner said.
Lt. Gen. Carlito Galvez Jr., Western Mindanao Command chief, said it is likely that the militants hid more guns and ammunition.
Galvez said residents are helping the police and military locate the guns.
He said the recovered guns would be among those that would be destroyed later this month.
"We will be working for a gun-free as well as a drug-free Marawi," Galvez said.
President Duterte ordered the military to destroy all firearms recovered from the terrorists. – With John Unson