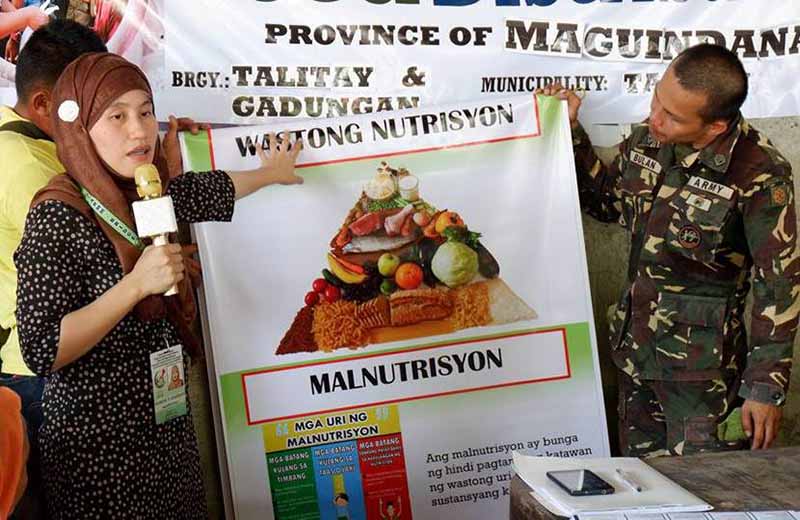 Besides providing livelihood to sectors in remote areas, the ARMM-BRIDGE program also aims to address malnutrition in barangays where it has projects.
Anti-poverty program to raise funds for livelihood projects in Maguindanao
John Unson
(philstar.com) - November 4, 2017 - 7:07am
COTABATO CITY, Philippines — There is a program now helping generate livelihood for villagers whose lack of income violent religious extremists stir up to propagate hatred to government.
The Autonomous Region in Muslim Mindanao–Bangsamoro Regional Inclusive Development for Growth and Empowerment (ARMM-BRIDGE) is now assessing business proposals from barangays in 17 Maguindanao towns to start entrepreneurial activities benefiting marginalized residents.
The ARMM-BRIDGE aims to provide water, electricity, shelter and food to impoverished communities in far-flung areas in the autonomous region, which covers Maguindanao and Lanao del Sur, both in mainland Mindanao, and the island provinces of Basilan, Sulu and Tawi-Tawi.
In a statement Saturday, the ARMM-BRIDGE said it started evaluating last month the business proposals from barangays in Datu Saudi, Talayan, Talitay, Datu Paglas, Montawal, Guindulungan, Ampatuan, General SK Pendatun, South Upi, Mamasapano, Sultan Sa Barongis, Pandag, Abdullah Sangki, Pagalungan and Kabuntalan towns in Maguindanao.
The ARMM-BRIDGE will raise funds for the proposed barangay businesses to provide economic empowerment to beneficiary-communities.
Underdevelopment, illiteracy and poverty in far-flung areas are blamed for the proliferation of violent religious extremists, influenced by Islamic militants who are eloquent in stoking hatred to the government and to non-Muslims using social discrepancies as talking points.
The ARMM-BRIDGE focuses on the cooperative concept of establishing barangay businesses in far-flung areas.
The program aims to establish barangay cooperative businesses to promote religious and cultural solidarity among members.
Generation of livelihood is one of the four components of the ARMM-BRIDGE's "Apat na Dapat" approach in addressing socio-economic issues besetting the local communities.
The goal of the Apat na Dapat development framework is to provide ARMM's marginalized sectors with water, electricity, shelter and food.
The ARMM-BRIDGE said among the business proposals submitted for review last month by proponents in recipient barangays were for small grocery stores, bakery, fishing, tailoring, food and fruit juice production.
The assessment process include a study of the viability of the proposed businesses, availability of raw materials and investment returns based on business applicability.
The ARMM-BRIDGE's emailed press communiqué said it also facilitated last October a three-day basic nutrition education campaign for residents of barangays in Maguindanao that are covered by its projects.
The activity aimed to educate the local communities on proper hygiene, deworming, breastfeeding and proper preparation of healthy foods to ensure the physical fitness of children while pursuing elementary education.
The project management office of the ARMM-BRIDGE in Cotabato City has produced nutrition education materials that are now on display in strategic spots in different towns in Maguindanao.