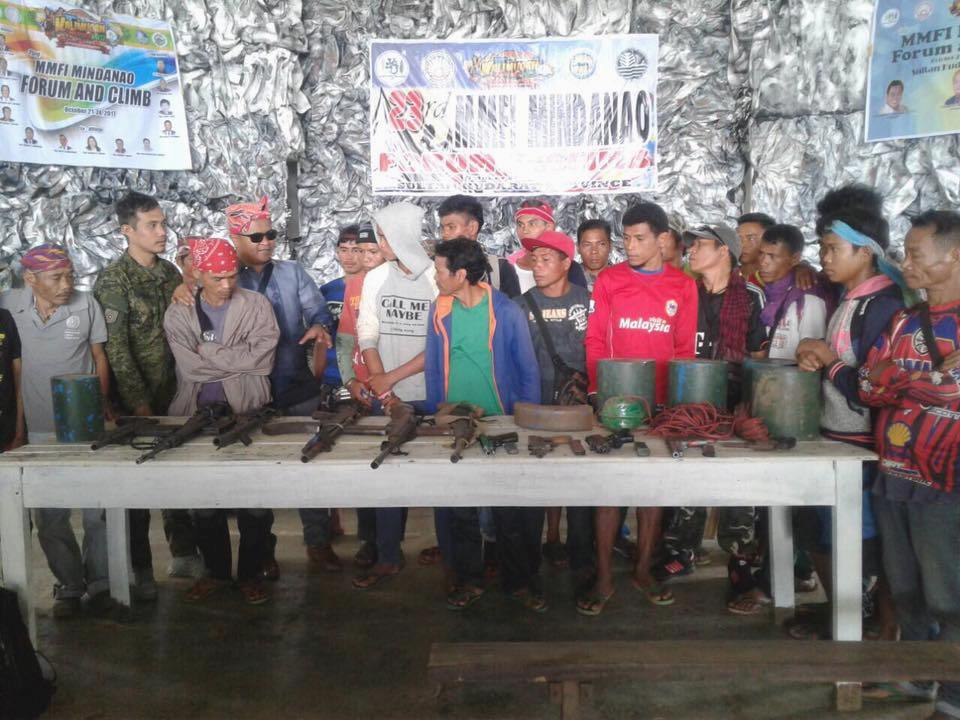 The 18 guerillas decided to surrender through the efforts of the Army's 33rd Infantry Battalion, a unit of the 6th Infantry Division. STAR/John Unson
Due to bitter internal squabbles, 18 NPA rebels surrender
John Unson
(philstar.com) - October 25, 2017 - 10:57am
SULTAN KUDARAT — Eighteen communist rebels surrendered Tuesday in Senator Ninoy Aquino town and turned in firearms and four powerful roadside bombs.
They agreed to renounce their membership in the New People's Army through the intercession of the Army's 33rd Infantry Battalion and the peace and order council in Senator Ninoy Aquino town in Sultan Kudarat.
Major Gen. Arnel Dela Vega of the Army's 6th Infantry Division told The STAR via mobile phone Wednesday that the 18 rebels complained of "difficult life in the hills" due to the government's continuing campaign against the NPA and the bitter squabbles for power among their leaders.
"We are glad that they have decided to return to the fold of law and pledge loyalty to the Philippine Flag. It is not too late yet," Dela Vega said.
Besides assault rifles and pistols, the 18 NPAs yielded four newly-assembled roadside bombs, each weighing more than two kilos.
The 18 NPAs were presented on Tuesday to Senator Ninoy Aquino Mayor Randy Ecija, who promised to help in their assimilation into mainstream society.
Ecija told reporters he is thankful to the commander of the 33rd IB, Lt. Col. Harold Cabunoc, for having convinced them to avail of the government's amnesty program for NPAs.
The 33rd IB has negotiated the surrender of 50 NPAs in Sultan Kudarat province in the past seven months.
Three of the 18 rebels who surrendered Tuesday are from Sultan Kudarat's seaside Kalamansig town, all under the NPA's Guerilla Front 73.
The group raided upland agricultural enclaves in Kalamansig early this year to collect protection money from settlers, sparking deadly clashes with responding servicemen of the Philippine Marine Corps.
Cabunoc said the three men, one of them a commander named Tirso Sakudal, shall be turned over to Kalamansig Mayor Ronan Garcia and Lt. Col. Jose Marie Santos of the 2nd Marine Battalion based in the municipality.
"The Kalamansig local government unit also has a rehabilitation program these three former NPAs can avail so they can start life all over again easily," Cabunoc told The STAR.