In this photo provided by the Presidential Photographers Division, Malacanang Palace, Philippine President Rodrigo Duterte, center, clad in a camouflage uniform inspects firearms recovered from Muslim militants during his unannounced visit to Camp Ranao in Marawi City in southern Philippines Thursday, July 20, 2017. PPD/Ace Morandante
Key Marawi bridge retaken, 6 terrorist snipers killed
ZAMBOANGA CITY, Philippines — Troops on Thursday have retaken a terrorist-held bridge, cleared at least 16 buildings and took down six enemy snipers in Marawi City where Islamic State affiliates are still controlling some areas.
As President Rodrigo Duterte visited the conflict-torn capital of Lanao del Sur province, government forces succeeded in regaining control of Mapandi bridge, which has been one of the strongholds of a terror coalition led by the Maute group since the militants attacked in late May.
Brig. Gen. Rolando Joselito Bautista, commander of the Joint Task Force Marawi, said the military also recovered nine firearms, including an M60 machine gun, grenade launcher, M14 sniper rifle and two M4 assault carbine rifles.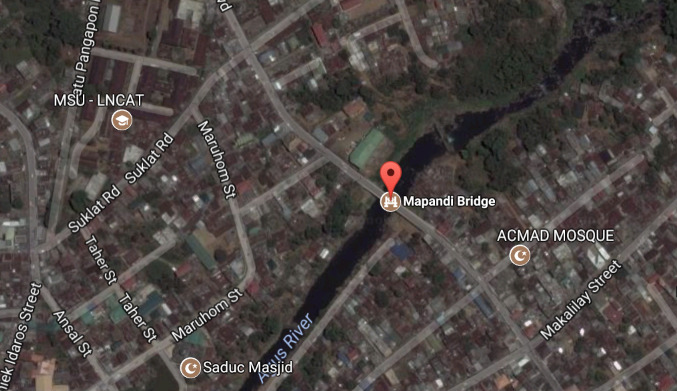 Mapandi Bridge has been controlled by members of the terror coalition sympathetic to the Islamic State in Marawi.
During the clearing operations, the combined soldiers and police forces spotted the remains of killed Islamist militants, including six snipers.
Movement of troops has been hindered by terrorist snipers firing from various positions in the city's central district.
The new enemy casualties bring a total of 427 terrorists killed in the protracted urban battle. State forces, meanwhile, have suffered from the lost of 99 soldiers.
Duterte flew for the first time to Marawi City on Thursday to to cheer troops who have been trying to quell a nearly two-month uprising by Islamic State group-linked militants, who he warned were plotting to attack other cities. — with a report from AP