Cayetano: Philippines will welcome 'independent', 'fair' UN rapporteur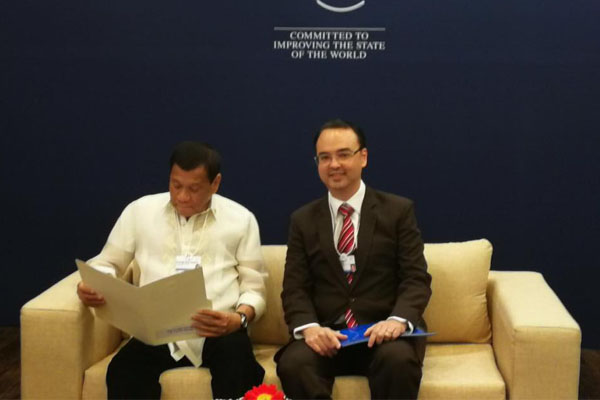 MANILA, Philippines — Sen. Alan Peter Cayetano, the country's next Foreign Affairs secretary, said on Wednesday that the Philippines will welcome any UN special rapporteur to investigate drug-related killings if they are "independent and fair."
In a press conference on Thursday in Phnom Penh in Cambodia, Cayetano said that the UN Human Rights Council usually asks for independent investigations and special rapporteurs when a country faces a human rights issue.
"Ang special rapporteur po, hindi po yan prosecutor na pupunta na husgahan. They will go and work with the government to find the problem and recommend," Cayetano said.
"So ang sinabi po natin, welcome basta't independent at tsaka fair," Cayetano added.
During the third cycle of the UNHRC's universal periodic review of the Philippines in Geneva, Switzerland last Monday, Cayetano questioned the fairness of UN Special Rapporteur Agnes Callamard after she released tweets and statements critical of the Philippine government's approach to the problem of illegal drugs.
"Please look at the tweets and statements of this special rapporteur, your excellencies. If you were Filipino and you read these slides, would you think that the rapporteur is factual, is fair?" Cayetano said.
Cayetano then criticized Callamard for supposedly having prejudged the situation in the country even before she visited the Philippines last week.
"Si Dr. Callamard, meron na siyang nasa utak niya kung anong nangyayari dito, against na siya," Cayetano said.
"We call on the Philippines authorities to adopt with immediate effect the necessary measures to protect all persons from targeted killings and extrajudicial executions," she said then.
Duterte has since stressed that he means police officers who are in danger from being killed by drug suspects who fight back should shoot back. Around 3,000 drug suspects have been killed in police operations since the war on drugs started.
Cayetano: How can she say that drugs don't harm?
"How can you have someone who will come here and evaluate ma meron na siyang conclusion tapos meron na siyang findings na ang droga hindi nakakasama samantalang ang WHO (World Health Organization) at yung UN meron nang anu-ano," Cayetano added.
Callamard has not said that illegal drugs are not harmful or are not a problem but has recommended that drug dependence and abuse should be treated as health issues. She has also said that law enforcement does not "absolve the government from its international legal obligations and do not shield State actors or others from responsibility for illegal killings."
He also told the UNHRC that they do not have to take their word for it, but requested not to take the word of Callamard as well.
"Padala kayo ng independent team," Cayetano said.
Cayetano also spoke against Callamard when he spoke before the UN Human Rights Council earlier this week, casting doubt on her objectivity. Earlier Thursday, the senator also cast doubt on Callamard's expertise, saying she is not qualified to probe extrajudicial killings.
Callamard is with the Office of the UN High Commissioner for Human Rights as a special rapporteur for extrajudicial summary or arbitrary executions.
She previously led human rights investigations in more than 30 countries in Africa, Asia and the Middle East. She also wrote about and published widely in the fields of human rights, women's rights, refugee movements and the methodology of human rights investigations in the French and English languages.
Particularly, Callamard also authored and directed volumes in monitoring political killings, excessive use of force, and torture as well as on sexual violence in armed conflicts.