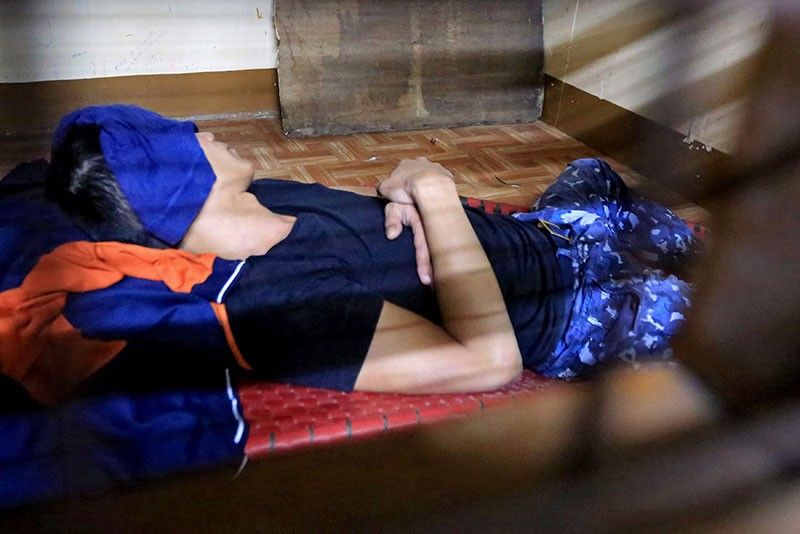 Police Officer 1 Ernesto Borleo takes a nap in a cell at the Manila Police District-Criminal Investigation and Detection Group office following his arrest yesterday. He allegedly protected drug pushers in Tondo.
EDD GUMBAN
Cop arrested for holding up drug raid
Rey Galupo
(The Philippine Star) - February 14, 2017 - 12:00am
MANILA, Philippines - A policeman who has been absent without official leave was arrested for interfering in a drug raid in Tondo, Manila before dawn yesterday.
Armed with an arrest warrant, police officers from the Manila Police District (MPD) Criminal Investigation and Detection Group (CIDG), Special Reaction Unit, Special Weapons and Tactics Unit and Station 7 raided the house of suspected pusher Alfred Basilisa along Hermosa street after receiving a tip that he was seen in the area at around 2:30 a.m.
Basilisa, ranked 10th in the MPD's most wanted list, escaped during the raid.
The raiding team found 75 grams of shabu, a .30 caliber rifle, an Ingram machine pistol, a bolo and assorted ammunition in Basilisa's house.
As the lawmen were clearing the house, Police Officer 1 Ernesto Borleo – who is currently detailed at the National Capital Region Police Office holding and administrative unit – arrived, presented himself as a policeman and tried to go into the house.
When the raiding team asked for his identification card and his superior officers, Borleo was unable to answer properly. A sachet containing six grams of shabu, with a street value of P25,000, was found on his person.
Chief Inspector Wilfredo Sy, MPD-CIDG chief, said drug charges were filed against Borleo while Basilisa was charged anew with illegal possession of firearms and ammunition.