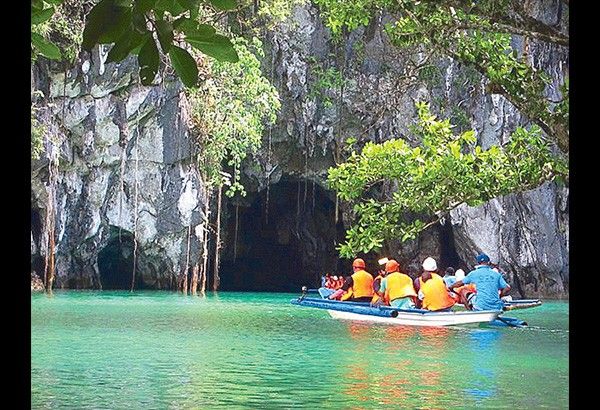 The entrance to the Puerto Princesa Subterranean River National Park
File photo
Puerto Princesa mayor dismissed for secretly hiring son as consultant
MANILA, Philippines -- The Office of the Ombudsman has ordered the dismissal of Puerto Princesa City Mayor Lucilo Bayron for hiring his son to lead one of the city's environmental projects and concealing their relationship.
In an 11-page decision approved by Ombudsman Conchita Carpio Morales on Dec. 15, 2016, the older Bayron as well as his son, Karl Bayron, were both found guilty of administrative offenses of serious dishonesty and grave misconduct.
Aside from their dismissal from service, the ombudsman also ordered the forfeiture of their retirement benefits, the cancellation of their civil service eligibility and their perpetual disqualification from holding public office.
The ombudsman said field investigators found out that Bayron father and son concealed their relationship by falsifying several documents and executing false declarations.
"Respondents Lucilo and Karl failed to disclose that they were related to each other as father and son. While the appointment of Karl is exempted from the operation or rule on nepotism under Administrative Code of 1987, their acts of concealing such relationship and of making a false statement in the contract, nonetheless, constitute a deliberate violation of the standard of behavior expected of government officials and employees to state the truth," the ombudsman's decision read.
Based on the complaint filed by a certain Aldrin Madreo in November 2013, the older Bayron representing the city government, entered into a contract of service with his son, hiring him as the project manager of Bantay Puerto-VIP Security Task Force with a monthly salary of P16,000 covering a six-month period from July to December 2013.
The ombudsman dismissed the respondents' argument that they had no legal obligation to declare their relationship as the younger Bayron was hired in a non-plantilla or non-career position and that the contract states that his position was "highly confidential"
"While Karl's engagement was to a confidential position, which is exempted from the rule on nepotism, the disclosure of their filial relationship was still necessary," the ombudsman said.
"Here, the attestation of respondents that Karl 'is not related within the fourth degree of consanguinity/affinity with the hiring authority (Lucilo)' by which they were able to conceal their filial relationship, is a false statement in a public document. The untruthfulness of the statement is clear from Karl's birth certificate showing that he is Lucilo's son," it added.
The respondents can still file a motion for reconsideration on the decision.