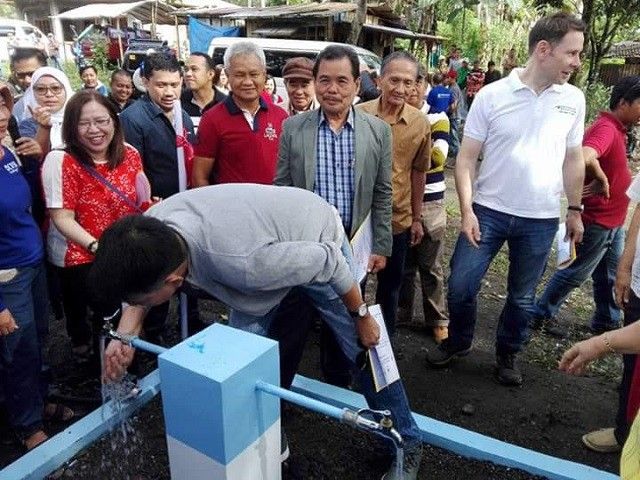 A guest drinks from a tap connected to a water supply facility built for former guerrillas in Camp Iranun in Barira town in Maguindanao while officials of the Moro Islamic Liberation Front, led by Muhaquer Iqbal, looks on.
JOHN UNSON, file
70 ex-MILF rebels complete alternative learning program
(Philstar.com) - January 20, 2017 - 6:13pm
MAGUINDANAO, Philippines (Philippine News Agency) -- After living the life of a rebel for 22 years, Khalil Nunting is now pursuing a new path in life - that is to earn an education for personal advancement and to earn money for his family of five.
Nunting, now 44 years old, is one of 70 members of the Moro Islamic Liberation Front who graduated from the Alternative Learning System that the government extended to former rebels.
Nunting, who finished the ALS Basic Education Training Module, said he wants to pursue a higher degree of education for his family.
"I would like to become a mobile phone repairman to earn an income for my wife, three daughters and one boy," he told reporters this week during a side interview for the realization of the Camps program in Barangay Tugaig here.
The Camps program supports the normalization process and the 2014 Comprehensive Agreement on the Bangsamoro by expanding socioeconomic assistance to communities in the six acknowledged MILF camps: Camp Abubakar as-Siddique, Camp Badre, and Camp Omar ibn al-Khattab in Maguindanao; Camp Rajamuda in North Cotabato; Camp Bilal in Lanao del Norte; and Camp Busrah Somiorang in Lanao del Sur.
Another graduate, Ramla Macao, 52, wife of a former MILF rebel, said she is proud of her accomplishment and also wants to pursue further studies.
Macao graduated from the ALS program with her two daughters.
"I am really very happy. I have not tasted education in the past," a teary-eyed Macao said.
Matthew Stephens, Mindanao Trust Fund (MTF) task team leader, said he would look into the prospect of coming up with advanced vocational courses for the ALS graduates by March this year.
The MTF, a multi-donor grant facility, financed the three-part program for the former rebels with a budget of P3.5 million.
Apart from the ALS program, the MTF assistance package also included the distribution of 120 heads of cattle to MILF widows and 10 water tap stands in various parts of this former rebel camp.
The MTF, established in 2005, has been working to consolidate international development assistance for the socioeconomic recovery of conflict-affected communities in Mindanao.
The Community and Family Services International (CSFI), a humanitarian organization committed to peace and social development, is the implementing arm of MTS programs in Mindanao.
Government of the Philippines Peace Panel Chair for the Bangsamoro Irene Santiago, who was special guest at the activity here, expressed confidence that the MTS-CSFI programs in the area would further produce positive response to the local communities.
"Do not lose hope because in hope we could attain peace," she said.
Mohagher Iqbal, chair of the MILF peace implementing panel, joined Santiago in the activities here. -- Noel Y. Punzalan/PNA