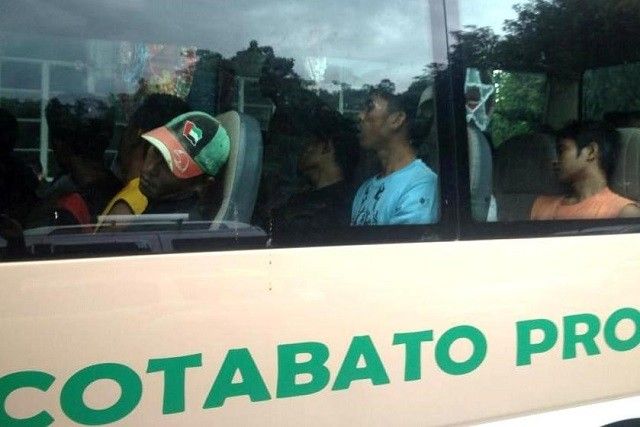 Escapees arrested in different towns around Kidapawan City were returned to the North Cotabato provincial jail Thursday using a government bus.
JOHN UNSON
2 North Cotabato jail detainees killed in second escape attempt
John Unson
(Philstar.com) - January 6, 2017 - 4:22pm
KIDAPAWAN CITY, Philippines -- Two escapees from the North Cotabato provincial jail were shot dead before dawn Friday by security escorts as they were trying to escape again while being returned to jail.
Ginda Angkil, 29 and Faisal Bansilan, 33, both died on the spot from multiple gunshot wounds.
They were among 158 inmates who escaped from the North Cotabato provincial jail early Wednesday morning when gunmen believed affiliated with the Bangsamoro Islamic Freedom Fighters attacked the facility.
The gunmen killed a guard and sprung more than a dozen high-risk detainees implicated in deadly bombings in the province. They released other inmates to help distract authorities.
Angkil and Bansilan were arrested at midnight Thursday in the outskirts of Kidapawan City and were being transported to the provincial jail when they jumped out from the vehicle carrying them and their escorts.
The policemen and jail personnel escorting them were forced to shoot them when they refused to yield despite warning shots.
Angkil was detained in connection with a murder case pending in a court in Midsayap town in North Cotabato while Bansilan was being prosecuted for alleged drug trafficking.
The deaths of Angkil and Banisilan raised to 10 the total number of escapees gunned down by pursuing military and police personnel.
Chief Inspector Birrey, spokesperson of the North Cotabato provincial police, said on Friday morning that 43 inmates had been captured in continuing search operations since before dawn Wednesday.
Two of the 43 inmates were shot and wounded by arresting officers. Both are now confined in a hospital.
By noontime Friday, Senior Superintendent Emmanuel Peralta, provincial police director, announced over local radio stations that 46 inmates had been captured, including the two who were rushed to a hospital for treatment of their gunshot wounds.
The assault on the North Cotabato provincial jail was the third in about a decade.
Guerillas attacked the facility twice in the past to set free comrades tagged in deadly bomb attacks in different towns in North Cotabato.