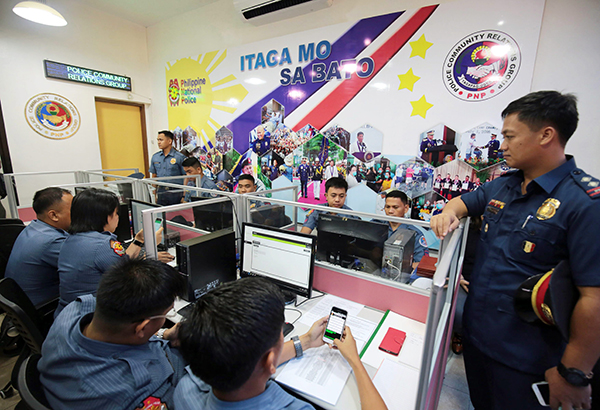 Police officers man the phones for the 'Itaga Mo sa Bato' Quick Response Hotline at Camp Crame, Sept. 5, 2016. Michael Varcas, File
Ilocos Norte activates own 911 emergency hotline
LAOAG CITY, Ilocos Norte — The provincial government of Ilocos Norte with the Ilocos Norte Police on Thursday launched their own centralized emergency hotline called the Provincial Incident Response Management (PIRM) 911.
The PIRM 911 enables the public to avail quick response from public safety agencies such as the police, Bureau of Fire Protection, paramedics, and other law enforcement agencies said Senior Superintendent Jose Melencio Nartatez Jr. of the Ilocos Norte Police Provincial Office.
Nartatez said the PIRM 911 works exactly the same as the nationwide 911 emergency hotline. He, however, said that in the meantime the PIRM 911 will be using temporary landline and cellphone numbers while waiting for the Public Safety Answering Point (PSAP) equipment from a private telecommunications company.
As of today according to Nartatez, there are only three PSAPs in the country located in Metro Manila, Cebu and Davao.
"We should implement immediately itong 911 with or without the PSAP, anyway darating din naman yun. What's so important is we exercise the drill so that we have a room for improvement, especially the response time and capability enhancement of responders," Nartatez said.
Gov. Imee Marcos who led the launching said the activation of an emergency hotline is very important especially this December when the number of emergency incidents tends to be higher.
"We are trying our best to just operationalize as well as transmit to the police as quick as possible. The goal is to respond in five to seven minutes," Marcos said.
Temporary emergency hotlines are (077)6000948, (077)7721772, 09999997707 and 09171099911.
Based at the Ilocos Norte Provincial Capitol Resiliency Office, the PIRM 911 command center operates 24 hours a day.