INFOGRAPHIC: Liquefaction potential map of Metro Manila
MANILA, Philippines – With the anticipated magnitude 7.2 earthquake triggered by the West Valley Fault along areas in Metro Manila and nearby provinces, the Philippine Institute of Volcanology and Seismology (Phivolcs) warned residents living in areas where the ground is prone to liquefaction.
During the earthquake preparedness forum in Malabon organized by the City of Malabon and Assistance and Cooperation for Community Resilience and Development/ACCORD last June, Kathleen Papiona of Phivolcs said liquefaction is among the other hazards caused by earthquake. Other hazards are ground rupture, ground shaking, fire, landslide and tsunami.
"Liquefaction is a phenomenon, when loosely consolidated sediments soil deposits lost their strength and appeared to flow as fluids," Papiona said.
The phenomenon is triggered by strong ground shaking and is commonly observed near rivers, bays, and other bodies of water since it occurs in water-saturated soils.
Phivolcs Director Renato Solidum Jr. said coastal areas in the cities of Marikina, Pasig, Taguig, Caloocan, Malabon, Navotas, Marikina, Muntinlupa, Pasay, Las Piñas and the municipality of Pateros are prone to liquefaction.
Aside from Metro Manila, Solidum said several areas in the provinces of Pampanga and Nueva Ecija are also susceptible to liquefaction according to the findings of a 2004 study conducted by Phivolcs and the Metro Manila Development Authority.
Here is the liquefaction potential map of Metro Manila: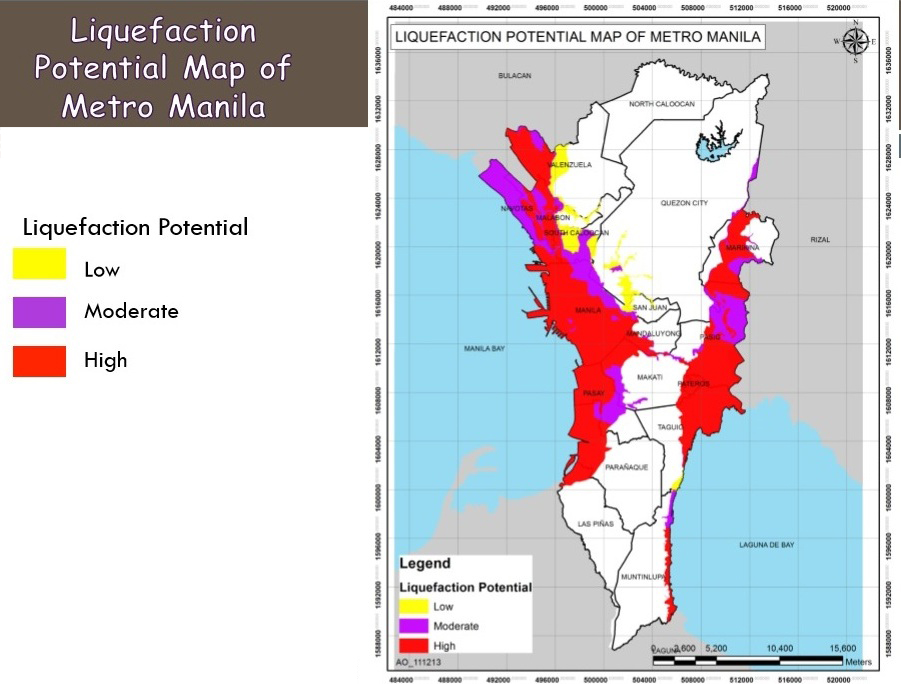 Map from Ready for GMMA, 2014