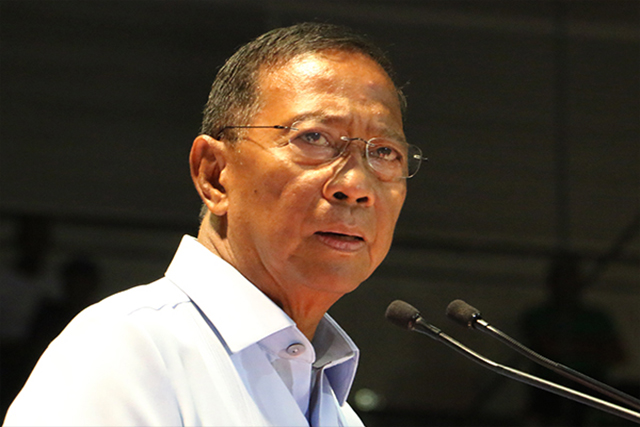 In a 53-page resolution promulgated on Feb. 5, the court's Third Division denied Binay's motion to quash the nine counts of falsification of public documents, four counts of graft and one count of malversation of public funds against him. Philstar.com/Jonathan Asuncion/File
Sandigan to proceed with Binay trial
MANILA, Philippines — The Sandiganbayan will push through with the formal trial of former vice president Jejomar Binay in connection with the alleged anomalous construction of the P2.2-billion Makati city hall parking building.
In a 53-page resolution promulgated on Feb. 5, the court's Third Division denied Binay's motion to quash the nine counts of falsification of public documents, four counts of graft and one count of malversation of public funds against him.
Filed by the Office of the Ombudsman in July 2016, the cases against Binay were for his alleged involvement in phases one, two and three of the alleged overpriced construction of the P2.2-billion Makati City Hall Building II during his term as mayor.
The anti-graft court also denied the motion to quash by one of Binay's co-accused, Efren Canlas of Hilmarc's Construction Corp.
The Third Division maintained that the information of the cases were sufficient in form and substance, contrary to Binay's and Canlas' claims that the facts in the charge sheets do not constitute the alleged offense.
The Third Division said the issues raised by Binay, such as his signing of several documents as part of his official duty as then Makati mayor and that he did not act with dishonest purpose, should be dealt with in a full-blown trial.
The Third Division also said that while Binay's petition for review before the Supreme Court remains pending, the lower court is "duty-bound" to continue the proceedings and set his arraignment on Feb. 23.
Meanwhile, the Third Division has yet to resolve the motion to quash by Binay's son, former Makati mayor Jejomar Erwin Binay Jr., thus the court has yet to set the date of his arraignment.
Binay Jr. is the primary accused in two counts of graft and six counts of falsification for phases four and five of the construction of the parking building. He is also named as a co-accused of his father for two counts of graft and one count of malversation for phase three of the project.
The ombudsman said the contracts were awarded through "simulated bidding" despite the absence of approved budget appropriation, project plan, and specifications.