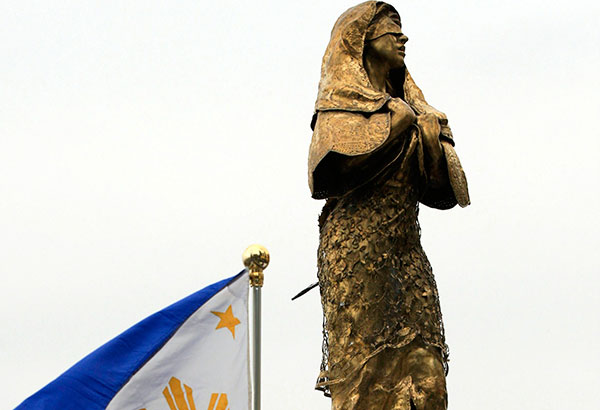 A seven-foot bronze statue of a Filipina comfort woman stands along Roxas Boulevard in remembrance of around 1,000 women conscripted into sexual slavery in 'comfort stations' run by the Japanese army during World War II. Edd Gumban
DFA questions Manila execs on comfort woman statue
MANILA, Philippines — The Department of Foreign Affairs (DFA) has taken city government officials of Manila, led by Mayor Joseph Estrada, to task over a statue of a comfort woman recently erected along Roxas Boulevard.
City administrator Erickson Alcovendaz told The STAR DFA Assistant Secretary Millicent Cruz-Paredes, in a letter dated Dec. 12, asked the city government to give the DFA background information on the statue by Dec. 20 after the Japanese embassy aired its concern.
The statue was installed near the intersection of Roxas Boulevard and Quirino Avenue on Dec. 8 in a ceremony attended by National Historical Commision of the Philippines chairman Rene Escalante and acting executive director Ludovico Badoy.
"Taking into account the sensitive nature of the comfort women issue both domesticaly and bilaterally, with Japan, the department requests for background information regarding the monument, including the process of erecting such monuments, and the circumstances that led to the erection of the comfort woman statue," Cruz-Paredes said in a letter addressed to Estrada.
Alcovendaz said they will answer the DFA.
"The Japanese officials said that the issue on comfort women is a very big and serious issue in their country, China and Korea. They said they regret that despite the strong ties between the Philippines and Japan, a comfort woman statue has been suddenly erected in Manila," he said.
He said the Japanese embassy told him the sisterhood ties between San Francisco in the US and Osaka were severed because of a comfort woman statue erected on private land.
Alcovendaz said newspapers in Japan and China carried the story on the comfort woman statue in Manila, which has sisterhood ties with Yokohama.
Lawyer Edward Serapio, secretary to the mayor, told The STAR the statue was erected by Tulay Foundation, a Filipino-Chinese organization headed by a certain Manuel Chua.
He said the foundation wrote the city government about a site for the statue. City officials said the foundation should secure a permit from the Department of Public Works and Highways and other national government agencies.
"We did not and we cannot issue a permit," Serapio said, adding that the foundation "apparently erected the statue without permits."