New Caloocan police chief named
September 5, 2017 | 4:00pm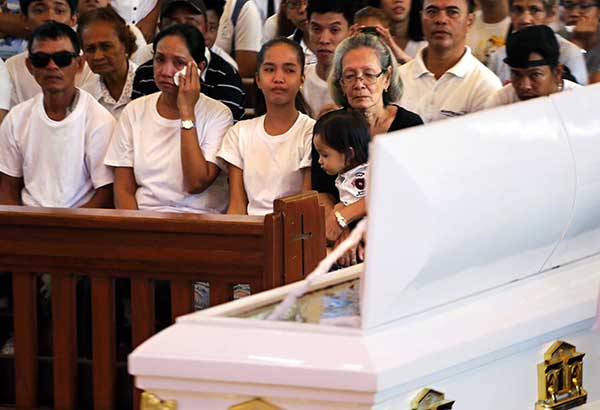 Amid killings of Kian, ex-UP student
MANILA, Philippines — A new chief of the Caloocan City police has been named amid public outrage over the deaths of 17-year-old student Kian Loyd delos Santos and Carl Angelo Arnaiz, a former student of the University of the Philippines.
Senior Superintendent Jemar Modequillo was appointed Caloocan police commander by National Capital Region Police Office (NCRPO) chief Director Oscar Albayalde on Monday.
Modequillo was a former Parañaque police chief and Manila Police District station commander.
He replaced Senior Superintendent Chito Bersaluna, who had been dismissed from his post following the killing of Delos Santos in an anti-drug operation in Barangay 160, Sta. Quiteria on Aug. 16.
Delos Santos, a Grade 11 student, was killed by police after he allegedly fired at the anti-narcotics operatives.
Closed-circuit television footage and witnesses' account, however, refuted the police officers' version.
Arnaiz, 19, was allegedly shot dead by operatives of the Caloocan police after he supposedly robbed a taxi driver on Aug. 18.
Arnaiz's remains were found in a morgue by his parents on Aug. 28, with a backpack allegedly containing suspected shabu and marijuana in his pockets.
Albayalde had ordered the relief of the lawmen allegedly involved in the killing of Arnaiz: Police Officers 1 Jefrey Perez and Ricky Arquilita.
Modequillo met with Caloocan police officials after he assumed his post yesterday.
"I still have to assess the situation in the city. I will have my men brief me on the developments in the cases," Modequillo told The STAR, referring to the deaths of Delos Santos and Arnaiz.
Albayalde ordered Modequillo to implement his brainchild Oplan Rody (Rid the Streets of Drunkards and Youth) in his new place of assignment.
The anti-crime campaign proved effective in maintaining peace and order during Modequillo's stint as chief of police of Las Piñas City and Parañaque, the NCRPO chief said.
"We believe that he is fit to head the Caloocan police," Albayalde said.
Senior Superintendent Victor Rosete will replace Modequillo as Parañaque police chief.
Rosete previously headed the District Public Safety Battalion of the Northern Police District.