Erap on staged cleanup: It's sabotage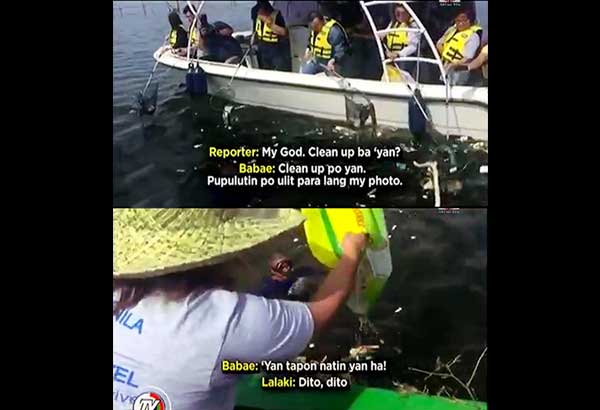 MANILA, Philippines - Taking flak from netizens over an ABS-CBN report showing that the Manila Bay cleanup drive last Friday was staged, Mayor Joseph Estrada yesterday washed his hands of the controversy.
"I have nothing to do with that. It's sabotage. I was invited there to lead the cleanup drive of Manila Bay," Estrada told The STAR in a telephone interview.
The ABS-CBN report showed a woman throwing garbage into the bay and two divers ensuring that the trash floated near the boat Estrada was riding.
In the video, the reporter asked why the woman threw the sack of garbage.
"Cleanup po iyan. Pupulutin po ulit para lang may photo (The garbage will be picked up again so there will be photos)," the woman said.
Asked if he is aware of any directive to throw waste in Manila Bay for publicity photos, Estrada said in the televised report, "for publicity only, but we are serious in cleaning Manila Bay."
Sol Arboladura, director of Manila Tourism and Cultural Affairs Bureau, said in the report that the cleanup drive was not initiated by the city government but by the Rizal Park Hotel and the cleanup will be done monthly.
The Department of Environment and Natural Resources said throwing garbage into Manila Bay is punishable by law but DENR Undersecretary Ma. Paz Luna, in the report, said it is unclear who ordered that trash be thrown into the bay.
Rizal Park Hotel chairman Simon Paz said the cleanup drive is part of the firm's corporate social responsibility program. The hotel is the former historic Army Navy Club, restored by developer Oceanville Hotel and Spa Corp.
Mark Brian Paz, Oceanville executive vice president, said it is an honor to be a partner in efforts to bring Manila's old beauty and glory.
The Supreme Court, on Dec. 18, 2008, gave 13 government agencies 10 years to clean up and rehabilitate Manila Bay.